Pizza and monster cookies
Sunday, January 15th, 2017 at 10:00 pm
What do pizza and monster cookies have to do with each other? Well, that's the combination that Abby and Henry came up with this week for their turn at cooking dinner for us.
Abby asked me at the beginning of the week what Italian food I could have, being on the Whole30 and such, and I couldn't really come up with anything. Even my cauliflower crust pizza is kind of frowned upon by the Whole30 rules – they describe that making technically Whole30 compliant ingredients into things like pancakes, pizza, muffins etc will make your brain think it's actually getting those sorts of foods. And hence the habits that you are trying to kick, such as overeating on pizza, fries, cookies etc, are not going to change because your brain thinks – I want pizza (for example) and it gets a type of pizza. But it's not as good a pizza as the 'real' thing, so at some stage, you are likely to just go full bore and hoe into a gluten/dairy/fatty pizza and all the work you've done for the Whole30 will be for naught.
Then she started thinking about what else she could make. And wanted to make pork buns – well, reheat them from the pre-packaged ones that we found at Costco a few months ago. Like a dutiful mother, I went to Costco to buy some … and they weren't there. Went to a number of other grocery stores and couldn't find any. I was going to make some lamb burgers the following day, trialing another recipe and thought I could help Abby make them instead. So that was the plan … until I took longer at work than expected that day so we didn't have time to get properly organized.
And then I thought … if I bake a sweet potato, and put the toppings from Abby's pizza on top, it won't be anything like a pizza and I can still remain Whole30 compliant. So that's what we did. Abby made her favorite Aussie egg and bacon pizza (basically scrambled eggs with bacon and onions) and put it on some Greek pita bread with cheese and some awesome pasta sauce that I found on special … and that's what the rest of the family had. I had the egg/onion/bacon mix on my sweet potato with some salad and it was a great compromise! Grant put some hickory smoked BBQ sauce on his as well … and he said that it was just awesome!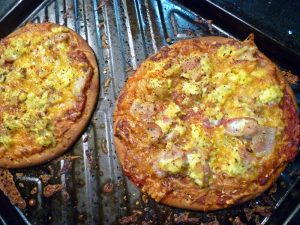 Now Henry was determined to make cookies. You see, earlier in the week I had made some white chocolate sugar cookies (recipe here) intending them to be for our weekly Bible Study group. I made them on Monday for a Tuesday night get-together. The family had some (I didn't – yay me!), and then I put them in a container. Came home from work the following day to find 5 of them missing … out of about 12 that were there at the beginning of the day. And Henry was home all day with them. I'm sure you can do the math!
So he wanted to make monster cookies to make up for the ones he'd eaten. I cautioned him that my recipe made a lot of cookies and maybe we could only do a third of the recipe. But he was determined to make a full batch. So I helped him .. and yes, there was a lot of cookies made, in weird shapes and sizes (see the photo), and there was dough eaten by Abby and Henry (not me – yay me again!). And apparently they were very yummy!
So that's what the kids cooked for us this week. Hope you enjoyed reading about their adventures – I had fun helping them out and look forward to the next time they ask me to do so!
Until next time, enjoy cooking at home … with kids!
Sarah
Filed under: Cooking with kids
Like this post? Subscribe to my RSS feed and get loads more!