Pineapple cookies
A refreshing gluten and dairy-free cookie full of pineapple that can be as calorific or healthy as you wish.
Ok, so these cookies don't contain any chocolate OR peanut butter. And yes, I still found them very yummy. Will wonders never cease?
Anyway, we had some leftover pineapple in the fridge after making pizza one night, and I remembered seeing a recipe for pineapple cookies in a cookbook I bought while Grant and I were on Route 66 a few years ago. So I made them. And loved them. And so a few years later I made them again. And loved them again.
And then I thought to myself, I need to share this with others. So here it is … if you're into interesting ingredients in cookies, give these a go and you'll be pleasantly surprised. I recently took a batch of these to a church picnic and they went like hotcakes. Well, hotcakes with pineapple in them!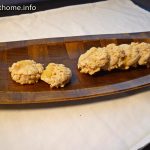 Pineapple cookies
Ingredients
1

cup

coconut oil

1

cup

raw or brown sugar

1

cup

Stevia powder or granulated sugar

2

eggs

4

cups

gluten-free all-purpose flour

1

cup

chopped cashews

1

tsp

baking soda

1

tsp

vanilla

1

can drained

crushed pineapple
Instructions
Preheat oven to 350F. Prepare 2 baking trays with parchment paper.

Cream coconut oil and sugars. Add eggs and mix well.

Add all other ingredients - the dough will be very stiff.

Drop by teaspoonfuls on cookie sheet and bake for 10 minutes.

Allow to cool slightly before moving to a wire rack to fully cool.
Recipe Notes
If you are not concerned about being dairy-free, use shortening or butter instead of coconut oil.
If you are not concerned about sugar, feel free to substitute brown sugar for the raw sugar and granulated white sugar for the Stevia.

Adapted from The ugly pie cookbook