Peanut butter apple cake
A gluten-free, dairy-free yummy peanut butter apple cake with warming spices to jazz it up even more!
Last weekend I went to my very first cooking class (thank you Sur La Table website here). And loved it. The class was about cooking without recipes – learning all about ratios of the important ingredients and then going for broke with your own imagination. My sort of class. We made a hearty beef stew, creamy polenta, a green bean salad with a vinaigrette and a spicy pear cake. I was particularly happy to learn about the cake – without a recipe.
So I learnt the ratio for most cakes – the same weight of flour, eggs, butter and sugar and then whatever else you want to put in there. I couldn't wait to try it at home. And this is the ironic bit – here's the recipe for a peanut butter apple cake that I made up based on a cooking class all about cooking without recipes! And as always, feel free to experiment yourselves, and let me know how you go! But just don't go as far as Henry when he's making a cake … follow some sort of guide, or this can happen!
PS The first time I made this peanut butter apple cake I used a simple peanut butter frosting on this as well, but I think I overdid it slightly – all the family said it had way too much peanut butter … and that's saying something for them! Since then I've found that all you need is a simple dusting of powdered sugar instead …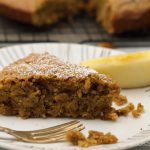 Peanut butter apple cake
(Gluten-free, dairy-free)
Ingredients
110

g

margarine

65

g

creamy peanut butter

90

g

brown sugar

90

g

white sugar

3

eggs

1

tsp

vanilla

180

g

gluten-free all-purpose flour

1/2

tsp

baking powder

1

tsp

cinnamon

1/2

tsp

nutmeg

1

Granny Smith apple
Instructions
Preheat the oven to 350F and line a 8" baking pan.

Place the margarine in a stand mixer and cream until it changes in color. Add in the peanut butter and sugars and mix until well blended. Add in the vanilla.

In a separate bowl, sift the flour and add the baking powder, cinnamon and nutmeg.

Add one egg and about half of the flour and mix. Add another egg and mix.

Grate the apple and toss in the rest of the flour mixture and add to batter. Add the final egg.

Pour into prepared pan and bake for 25-30 mins or until a skewer comes out clean.

Allow to cool on a cooling rack prior to eating and/or frosting (and then eating).