Pancakes by Grant
A simple, no-fail pancake recipe that guarantees light and fluffy pancakes, every single time.
Somewhere along the line we started a tradition of pancakes for breakfast on Saturday mornings. Most of the time, the kids cook it with little to no assistance from us. This pancake recipe was perfected by my husband, Grant. Gives light and fluffy pancakes, EVERY single time. Even with the gluten-free flour blend … maybe just because Grant is the Pancake King! So I had to title the recipe 'Pancakes by Grant' – give him ALL the credit.
If you want thicker pancakes, add some more flour. If you want thinner pancakes, add some more milk. More often than not, we will also just use plain gluten-free flour and add 2 tsp baking powder for each cup of flour to make it rise. A tip to make sure the pancakes are light and fluffy – add the baking powder at the beginning and also in the middle of cooking – otherwise the batter kind of collapses on itself.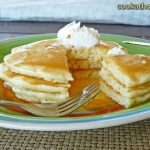 Pancakes by Grant
Ingredients
1

cup

all purpose gluten-free flour

1

cup

almond milk

2

eggs

2

tsp

baking powder
Instructions
Preheat the frying pan to a medium-high heat.

Mix all ingredients together.

Using a 1/4 cup, pour batter onto frying pan. Wait until bubbles appear on the top and the batter loses its glossy appearance before flipping.