Paleo chocolate cream mini-pies
Paleo chocolate cream pies, a decadent dessert with no refined sugar, dairy or gluten!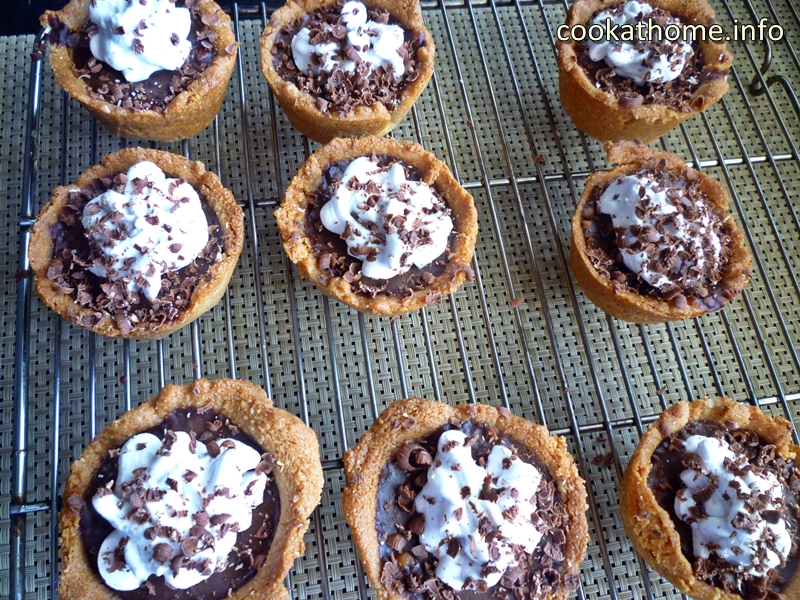 Imagine, if you will, a rich, chocolate cream pie sliding into your mouth, over your tongue, down your throat and into your belly. And imagine that this decadent treat contains no gluten, dairy or refined sugar. Well, imagine no more and make these Paleo chocolate cream pies and make these dreams come true!
I'm on a no-refined sugar kick again, and avoiding grains and other legumes (apart from peanut butter because, well, really – can you really see this gal giving up her peanut butter?!). So coming up with this recipe for Paleo chocolate cream pies was just a matter of time. It's based on a few other recipes – my Paleo 'graham cracker' crust, and my basic cream pie filling. And I've made even the cream pie filling Paleo-friendly, with no grains or refined sugar. And you know what? While it's definitely not as sweet as the original, these pies are rich enough, and I don't think you would want them any sweeter (although I think Grant would prefer them a little bit sweeter …!).
Top them off with some whipped coconut cream and some Paleo-friendly grated chocolate, and these little mini pies were an instant hit with all my taste testers. Including me. Because I'm the one that I really need to please, right?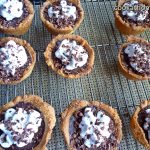 Chocolate cream mini pies
(Paleo, gluten-free, dairy-free, no refined sugar)
Ingredients
For the crust
2 1/2

cups

almond flour

1/2

cup

coconut oil

melted

1/2

cup

honey
For the filling
3

tbs

tapioca starch

2

tbs

potato flour

2/3

cup

coconut sugar

1/3

cup

maple syrup

3

cups

unsweetened almond milk

2

tbs

cocoa powder

3

egg yolks

2

tbs

almond butter

1 1/2

tsp

vanilla
Instructions
For the crust
Mix all the ingredients together.

Form into 10 small circles and drop into a greased muffin tin with strips of parchment paper fitted.

Use plastic wrap over a cylindrical object (i.e. a rolling pin) to form into crusts along the side of the muffin tin.

Bake at 350F for 7 mins.

Remove from the oven, immediately use the plastic wrap over the cylindrical object to form the crusts as thin as possible (they will have expanded during the baking).

Put back in the oven (with no heat) to crisp up for 10 minutes. Remove and allow to cool to room temperature.
For the filling
In a small bowl, combine the egg yolks, almond butter and vanilla until a paste forms.

Combine the tapioca starch, potato flour, maple syrup, coconut sugar, almond milk and cocoa together in a medium saucepan until no lumps remain.

Place on heat and allow to come to a slow boil, stirring frequently.

Once boiling and slightly thickened, add the egg mixture in three batches, stirring constantly.

Once all combined, continue to stir until the mixture is thickened sufficiently.

Pour into the cooled crusts and chill in the refrigerator for at least 2 hours.
Recipe Notes
Top with whipped coconut cream and shaved Paleo-friendly chocolate.