No oats granola
A healthy and hearty gluten and dairy free granola – can be made as paleo, but will always be yummy!
I love granola. And almost every single time I make it, it's a little bit different. I go through stage of wanting oats and not wanting oats. But the basic recipe is the same. Some sort of nut butter, some sort of natural sweetener, some sort of spice, a whole heap of dried fruit, nuts and seeds. Sometimes with coconut. Sometimes with puffed rice or oats. Do you get the picture?
Anyway, this is what I make on a regular basis now. Really easy to make – and while I can't go past peanut butter as the nut butter, you can easily substitute for almond or cashew butter to do it properly as paleo if you're following that diet. And I usually just throw in whatever is in the pantry. Always yummy, no matter what. Just make sure you get the ratios right.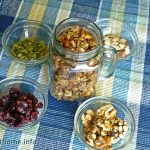 No-oats granola
2014-05-29 19:01:37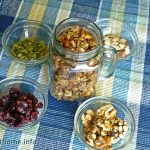 Nutrition Facts
Amount Per Serving
* Percent Daily Values are based on a 2,000 calorie diet. Your Daily Values may be higher or lower depending on your calorie needs.
Ingredients
2 tbs peanut butter
2 tbs honey
1/4 cup raisins
1/4 cup pumpkin seeds
1/4 cup almonds
1/4 cup cashews
Instructions
Melt peanut butter and honey together.
Mix in the rest of the ingredients until all coated with peanut butter/honey mixture.
Bake in oven at 180C for approximately 10 mins.
Leave to cool and harden before transferring to sealed container.
Cook at Home http://cookathome.info/