No bake chocolate sunbutter slice
A no-bake chocolate sunbutter slice, free of all the top 8 allergens, perfect for any occasion and so yummy!
I originally posted this chocolate sunbutter recipe as part of my excitement for winning a prize from Enjoy Life Foods through random draw (see here). But I've made it a number of times since and it is just awesome, so I had to share it in its own page. This is one of those recipes that I just have to take into work to share. And it's also the recipe where I constantly get asked when I'm going to make them again.
A no-bake chocolate sunbutter slice, that takes care of all of the top 8 allergens (i.e. avoiding them). For those of you who don't know what the top 8 are: wheat/gluten, dairy, peanuts, tree nuts, egg, soy, fish and shellfish. I received the cookies and some mini chocolate chips in my prize package (thank you!), and to be honest, I just couldn't stop eating them. That's why I cut them into really small pieces. But that just means I can eat more!
PS For those of you who wish to have a chocolate sunbutter slice with no refined sugar in it as well, check out this recipe …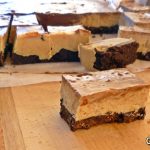 No bake chocolate sunbutter slice
2016-08-17 11:59:03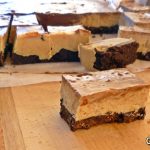 Nutrition Facts
Amount Per Serving
* Percent Daily Values are based on a 2,000 calorie diet. Your Daily Values may be higher or lower depending on your calorie needs.
For the crust
1 pack Enjoy Life Double Chocolate Chip Crunchy Cookies
4 tbs coconut oil, melted
For the filling
1/2 cup coconut oil
1 cup sunflower seed butter
1 tsp vanilla extract
1 pack Enjoy Life Vanilla Honey Graham Crunchy Cookies
2 cups powdered sugar
For the topping
6 oz Enjoy Life mini chocolate chips
2 tbs coconut oil
For the crust
Place the cookies and coconut oil in a food processor and blend until the crumbs slightly come together.
Prepare an 8x8" baking pan with parchment paper.
Pour the crumbs into the pan and press down firmly with a spoon or the bottom of a glass to form an even crust. Place into the freezer while preparing the rest of the recipe.
For the filling
Place the coconut oil and sunbutter in a microwave safe bowl and heat for 1 min, or until the coconut oil has melted.
Stir until smooth and add vanilla.
Place the Honey Graham cookies in the food processor and process until crumbs are formed.
Add the oil and sunbutter mixture and process until smooth.
Pour the mixture into a bowl and add powdered sugar. Mix until all combined (it will become very stiff, but be sure to incorporate it all together).
Pour on top of the crust and smooth the top. Place in refrigerator to chill while preparing the topping.
For the topping
Melt the chocolate chips and coconut oil together until just melted.
Pour on top of the sunbutter mixture and smooth out.
Chill in refrigerator for approximately 2 hours to harden.
When the chocolate is just hardened, use a sharp knife to cut into portions.
Cook at Home http://cookathome.info/