Nigella's chocolate chip bread pudding
A great way to use up stale (gluten-free) bread, with chocolate chips and a sweet custard filling, this dessert will warm you all the way through!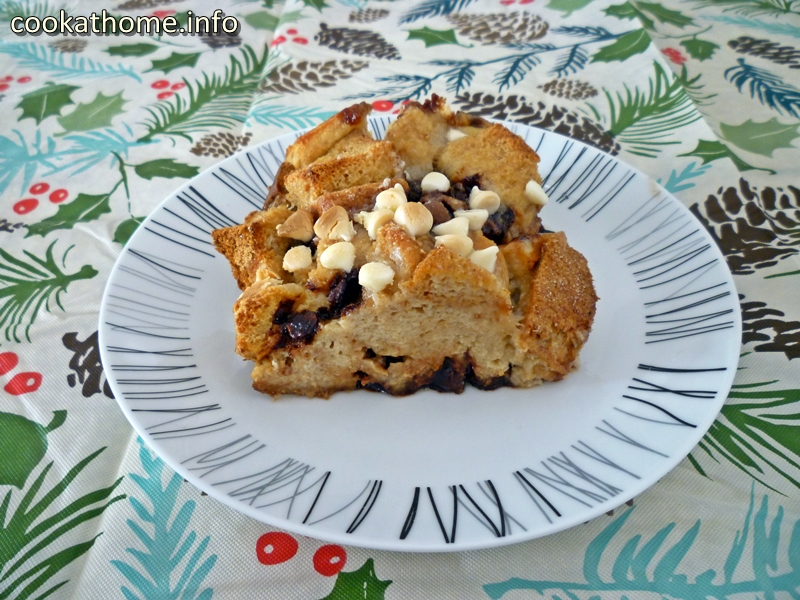 Am I the only one who has cravings for gluten-free bread, and then after two slices decides they are actually not wanting this any more? Maybe it is just me. But if this description fits you as well, or you just love bread pudding, this recipe is for you!
This recipe is originally from Nigella Lawson (who happens to be one of my favorite cooks in the world – so much so that I named my KitchenAid mixer Nigella!). A combination of bread (great for stale bread) and chocolate with a creamy, chocolate-y custard through it. And you can use gluten-free bread, dairy-free chocolate chips, white chocolate chips, coconut cream, etc. This bread pudding recipe is also so easy, my (then) 14 year old daughter made it for the purpose of updating the photo. She did an awesome job, didn't she? And it tasted awesome too!
In case you didn't know, bread puddings are really yummy straight from the oven. And they're also really yummy straight from the fridge …! Pair it with some dairy-free ice cream (like here or here) and enjoy the taste sensation!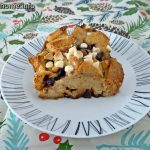 Nigella's chocolate chip bread pudding
Ingredients
250

g

stale bread

cut into 3cm cubes

100

g

chocolate chips

3

eggs

40

g

soft light brown sugar

125

mL

full-fat cream

500

mL

milk

4

tsp

granulated sugar
Instructions
Preheat the oven to 170C. Grease an ovenproof dish lightly with butter.

Tip in the stale bread crumbs. Toss in the chocolate chips to spread evenly among the bread cubes.

Whisk together the eggs, brown sugar, cream and milk. Pour this mixture over the bread and press the cubes down to coat them in the liquid.

Leave all this to soak for 20 mins, then sprinkle with the granulated sugar and put straight into the oven for 50-60 mins. The pudding is ready when the custard has set and has a light wobble.

Let the dish stand for a while before serving - if you can!
Recipe Notes
To make this gluten free - use gluten-free bread.
To make this dairy-free - use coconut cream, dairy-free chocolate chips and full-fat coconut milk as substitutes.