"Molten" flourless chocolate cupcakes
Nice and moist, the mayonnaise really gives these flourless chocolate cupcakes a great texture with a heavenly mixture of both white and milk chocolates.
Looking for a flourless chocolate cake in a bite-sized form? Look no further – I've got you covered with these awesome flourless chocolate cupcakes!
Now I have other flourless chocolate cake-like recipes here – think chocolate brownies, chocolate orange flourless cake, and an awesome chocolate cake, courtesy of Nigella Lawson! But sometimes, you just want chocolate in a handy, hold-in-your hands format. These flourless chocolate cupcakes are absolutely awesome! Nice and moist, there is a secret ingredient (mayonnaise) and this really gives it a great texture. It's a little egg-y, but definitely a crowd-pleaser – you should see my kids faces when I tell them I'm going to make these!
Feel free to substitute milk chocolate for the cubes that you shove into the warm, just-baked chocolate-y goodness. Or go for what my family prefers and the white chocolate. Now, this recipe can be made dairy-free, if you use dairy-free chocolate, coconut oil or ghee, and coconut cream.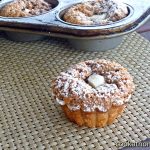 "Molten" flourless chocolate cupcakes
Ingredients
150

g

milk cooking chocolate

1/2

cup

butter

1

cup

cream

4

eggs

room temperature

1 1/3

cups

sugar

1/2

cup

mayonnaise

1/2

cup

cornstarch

1/2

tsp

ground cinnamon

1/2

tsp

salt

100

g

white chocolate
Instructions
Preheat oven to 160C. Line a cupcake pan with paper liners and spray the liners.

Shave or chop the milk chocolate and put it into a bowl.

Combine the butter and cream in a small saucepan over medium-high heat. When the cream mixture comes to a simmer, pour it over the chopped chocolate and stir gently to melt the chocolate.

In a medium bowl, whisk together the eggs, sugar, mayonnaise, cornstarch, cinnamon and salt just until the sugar has dissolved. Pour the chocolate mixture into the egg mixture and gently mix just until combined. Mixing too much will prevent the eggs from rising in the oven.

Scoop about 1/4 cup of the batter into each mould - it should come about 3/4 of the way up the sides.

Bake for approx 40-45 mins - do not overbake.

While baking, cut the white chocolate into roughly 1/2" pieces and set aside.

Immediately while the cupcakes are hot, add a chunk of the white chocolate in the centre of each by gently pushing it through the top of the cupcake in the centre.

Cool the pan on a rack for 10 mins then remove the cupcakes. Dust with icing sugar and serve warm.
Recipe Notes
To make this dairy-free, use dairy-free chocolate (i.e. Enjoy Life), dairy-free margarine (e.g. Earth Balance), and coconut cream