Mango banana sorbet
This mango banana sorbet is a gluten and dairy free sorbet, simply using mango and banana for a refreshing taste
Yes, I love my ice cream maker (thank you Cuisineart!). I never thought I would get into making ice cream that much, because I really didn't eat that much, even when I could eat dairy. Mind you, I remember when I worked at a dairy company back in Australia. This company made ice cream for a big US company (not saying which one, in case I get in trouble for telling this story!), and they had to take samples of every flavor they made for QA/QC purposes. Well, every quarter, the US company would choose which flavors they wanted sent across and the leftover samples were given to employees to enjoy at home.
Now, these were about 1″ thick of the big 11L ice cream tubs you see in commercial ice creameries. Grant and I (before kids) would sit on the floor, with the circle of ice cream between us. Each of us would have a spoon, we'd draw a line in the middle and each eat from our particular half. I don't recall these samples lasting much longer than a few days between the two of us. So maybe I did have a strong liking for ice cream. That I've just forgotten about being dairy-intolerant now.
Anyway, I've been experimenting with a lot of different ice cream recipes (see here for what I've come up with so far), but what I really wanted to try next was a sorbet. Just fruit, a little sugar (hopefully natural and non-refined to make it a little bit healthier!), and that's about it. When my brother and his family were here recently, we went out for dinner and there was a mango banana sorbet that was awesome. Me, being me, wanted to see if I could make something like it. And here's my attempt.
Grant thinks it's too much mango. Henry thinks it's perfect. Grant isn't a big fan of mango. Henry LOVES mango. You decide!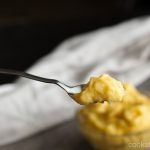 Mango banana sorbet
(Paleo, gluten-free, dairy-free, no refined sugar, vegan)
Ingredients
10

oz

frozen mango chunks

1

very ripe banana

1/2

cup

water

2

tbs

maple syrup
Instructions
Process all above ingredients in a good food processor until smooth.

Pour into ice cream maker and churn according to manufacturer's instructions.