Leftover Halloween Candy
Saturday, November 15th, 2014 at 4:13 pm
Our first Halloween in the US meant our first stocking up of the Halloween candy bowl. And we had a reasonable amount of leftover candy just sitting in the pantry. So, what to do with it (apart from eat it all at once, which did cross my mind!). So, I separated out the candy that I could eat (i.e. gluten-free) and this is what I was left with:
I put my thinking cap on and came up with these:
Chocol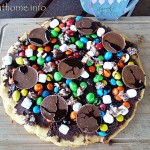 ate pizza – a gluten-free base, made from a packet mix that said that it could make pizza crusts, but it turned into more of a biscuit/cake base, topped with melted chocolate, all the above candy, along with mini-marshmallows and a chocolate fudge syrup swirl on top. Very nice, and used up a few of the leftovers …
Chocolate ice cream sundae – good quality ice cream (with a peanut butter fudge swirl in it (just because), and chopped up all of the above candy, again with a chocolate fudge syrup swirl on top. Yes, this was for one of the US National Food Days (National Sundae Day), but still worth it to use up some of the candy.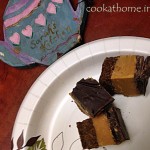 My ultimate chocolate peanut butter slice (recipe here) – followed the recipe pretty much as written, but in the top chocolate layer, I melted all the leftover peanut butter cups with some additional chocolate. I took these to work and they were gone within about 15 minutes … with many people going back for 2nds, 3rds, and more. One guy even picked up the plate with the crumbs on it, poured them into his hand and gobbled them up, saying 'don't judge me, these are just so good'!

Rocky road slice (recipe here) – with M&M's (peanut and plain) and almond joy, these were also a crowd pleaser at work! I also put in some cranberries, some additional coconut and almonds and gee, these were great!
I hope you enjoyed hearing about our experiences with our first Halloween …
I'd love to hear any other ideas you may have about using up Halloween candy – please leave your comments below.
Until next time, enjoy cooking at home!
Sarah
Filed under: The Blog!
Like this post? Subscribe to my RSS feed and get loads more!