'Kindness' chocolate raspberry cupcakes
Wednesday, November 18th, 2015 at 12:14 am
After last week's … interesting (!) concoction of cupcake (read here), Abby and I thought we'd get back to what we knew best. Cupcakes. Chocolate cupcakes to be exact. And what could we add to chocolate to make it awesome? Why, raspberries of course!
This was another in our series of converting a cake recipe into cupcakes – and these worked really well. The recipe originally came from Grant's mum (thanks Nanna!) and you can find it here. This is a really moist recipe, mainly because when I was given the recipe, Grant's mum doubled some of the ingredients but not the rest, as she always used to make a double batch. I haven't changed the proportions from what she gave me though – I love it! And this one was gluten-free, but I did use normal butter and normal milk (and tested fate with some Lactaid).
I never know just how many cupcakes a standard cake recipe will yield – this one ended up with about 29 in total. Luckily we had people around for lunch that day, and Grant took the rest to the Men's Bible Study, so win-win all around!
We put some raspberry jam into our standard buttercream frosting, Abby piped some awesome chocolate flowers, with just normal chocolate chips melted down, and then added a fresh raspberry on top. And the result …
For the 'kindness', well, this was a long stretch, but Abby says it was because the chocolate and raspberry are kind on your tongue (?!). But it's the latest in the series of the Fruits of the Spirit cupcakes, so you can take this explanation or leave it!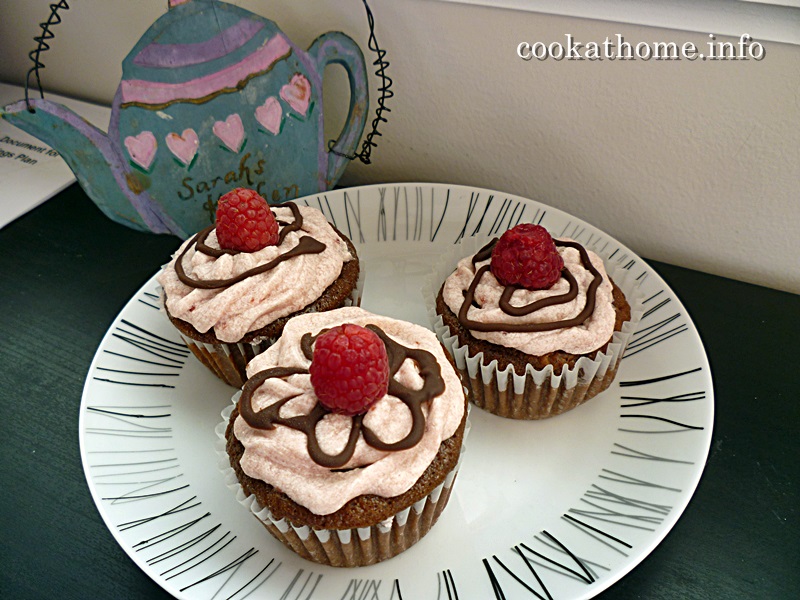 I think they look awesome. I think they tasted awesome. And so did everyone else who tried them. Abby says they were our best tasting cupcakes yet. Watch out next week …! Actually, next week we're going to try something to use up some leftover cereal. Apparently, my kids don't like cereals that taste like Fruit Loops – go figure! Well, they were gluten-free and dairy-free and have half the amount of sugar as normal Fruit Loops … but I can still crush them up into cupcakes. Stay tuned, hold your breath, and tune in next week!
Until then, enjoy cooking at home … with kids!
Sarah
Filed under: Cooking with kids
Like this post? Subscribe to my RSS feed and get loads more!