Healthy peanut butter swirl brownies
Brownies made with no oil or sugar, and gluten-free oats – so you can feel even more healthy while eating them!
Healthy brownies? Is it possible? And would they taste like 'normal' brownies? Well, I'm here to tell you yes, it is possible and yes, they taste like normal brownies. Actually, I think they taste better. And so do others that tried these – one of our friends (Kat) keeps reminding me of the one we gave her and how much she loved it! This recipe uses Greek yoghurt rather than oil or butter, and while there is some granulated sugar in here, it's not as much as you'd think. And no flour, so if you use gluten-free oats, these are healthy, tasty and gluten free – what more could you want?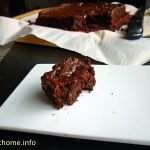 Healthy peanut butter swirl brownies
2014-06-15 00:49:49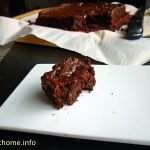 Nutrition Facts
Amount Per Serving
* Percent Daily Values are based on a 2,000 calorie diet. Your Daily Values may be higher or lower depending on your calorie needs.
Ingredients
180g low fat or fat free Greek yoghurt (use coconut milk yogurt for dairy-free)
1/4 cup (60 ml) skim milk (use almond milk for dairy-free)
1 large egg
1 tsp baking powder
1 cup (200 grams) granulated sugar
1/2 cup (64 grams) unsweetened cocoa powder
1/2 cup (40 grams) rolled oats
3/4 cup (185 grams) creamy peanut butter
Instructions
Preheat oven to 180C. Spray a 8×8 inch pan with non-stick cooking spray. Set aside.
Place all of the ingredients except for the peanut butter into a blender or food processor. For easier blending, place the liquid ingredients into the blender first. Blend until mix is smooth and oats are ground up.
Pour batter into prepared baking dish. Batter will be thin.
Microwave peanut butter for about 30 seconds. Drop melted peanut butter by spoonfuls onto the batter, swirling gently with a knife to create a marbled effect.
Bake for 20-25 minutes or until brownies begin to pull away from the sides of the pan. Brownies will be extra fudgy, so be sure to wait until COMPLETELY cooled
Cut into squares and enjoy!
Cook at Home http://cookathome.info/