Healthy chocolate fudge nut slice
A healthy, gluten-free, no bake chocolate fudge nut slice that is heaven in your mouth. Healthy chocolate? You bet!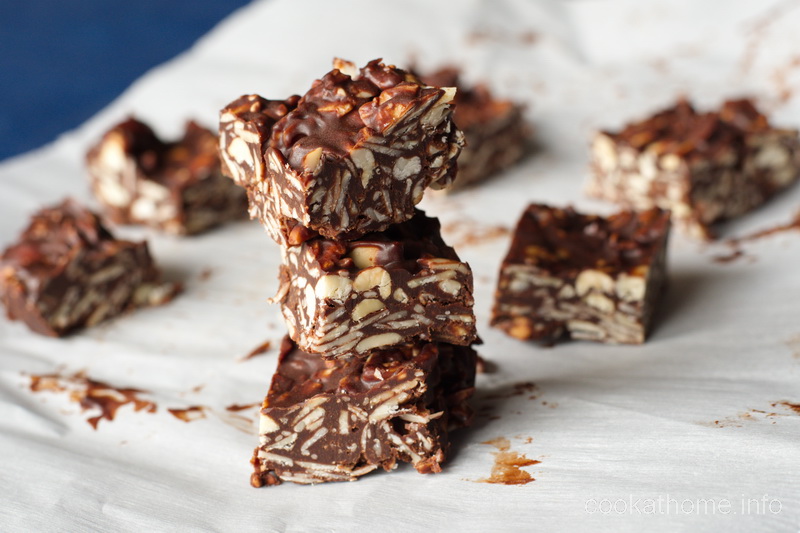 Sometimes I try to make my chocolate cravings go away by making more 'healthy' treats (like here, here and here!). This recipe caught my eye from the Sally's Baking Addiction website. I changed it a little – the original recipe was for cookies, but I made it into a slice so I could more easily portion the recipe into the 16 it called for (and stopped me from eating too much of it before letting it set!). I also didn't have enough sunflower seeds for the original recipe, so just added chopped nuts (almonds instead of peanuts), changed the peanut butter to almond butter and added a little bit of cinnamon, just to give it a little more 'zing'.
This chocolate fudge nut slice has a definite dark-chocolate flavor to it – but I love it, and it is very more-ish – as those in my office can testify!
Healthy chocolate fudge slice
(Paleo, gluten-free, dairy-free, no refined sugar, vegan)
Ingredients
1/2

cup

maple syrup

1/4

cup

coconut oil

1/4

cup

unsweetened cocoa powder

1/4

cup

almond butter

2 1/4

cups

nuts

chopped

1

tsp

cinnamon
Instructions
Melt together the coconut oil, cocoa and maple syrup until smooth. Allow to boil for 1 min or so.

Remove from heat, add almond butter and mix until smooth.

Add nuts and cinnamon and mix well - ensure all nuts are coated well with the chocolate mixture.

Pour into an 8x8" lined tin and chill (either freeze for 1 hour or refrigerate for longer).

Cut with a sharp knife into 16 portions.

Keep in refrigerator to ensure the slice doesn't melt!