Harvest vegetable beef stew
This hearty beef stew will warm you up from the inside out – full of harvest vegetables (and others because veggies are good!)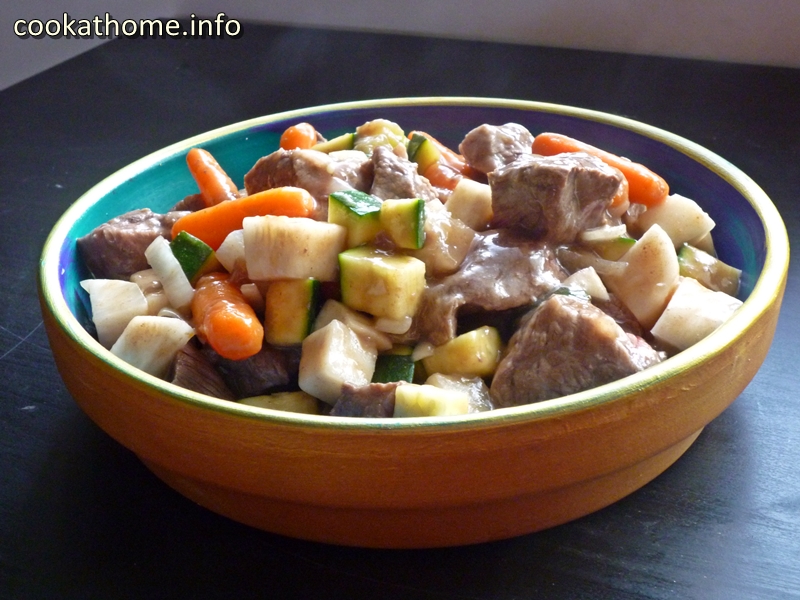 'Tis the season for all things soups, stews and casseroles. This month's Recipe Swap Club saw me assigned to FizlDizl (website here) and as I was searching all the recipes on the site, I came across this one, for a harvest vegetable beef stew. Now, you may remember in last month's Recipe Swap Club, I also made a beef stew (see here for details), but when you're on a good thing, and the kids enjoy eating stews chock full of veggies, who am I to complain?
The original recipe can be found here, and I have to admit to Jaime, I kind of changed it. Quite a bit, actually. Some of the changes were due to me being gluten intolerant (i.e. changed the flour for potato starch), some of the changes were because of my amazingly picky family when it comes to veggies (i.e. no mushrooms), and some were just due to my incompetence (i.e. I bought a parsnip to make this stew, but took too long to make it, and the parsnip shriveled up and was unusable). And I also added a few other herbs and spices. I would love to have tried the original recipe, but it just wasn't to be. So my apologies Jaime!
And another funny story … I know the recipe calls for slow and low cooking to get everything marrying together perfectly. Well, I kind of didn't have the time to do it in the slow cooker or oven, so I used my pressure cooker, which usually makes things taste very similar to the slow cooker. Except this time it didn't seem to go under pressure when I opened it. So the beef was cooked, but the veggies were not. Even when I left it in the slow cooker on warm for another 1.5 hours, the veggies weren't cooked. We all tried eating it, but let me tell you, once I gave it the proper amount of cooking time, it was SO much better. So, all of you, make sure your equipment is working properly, and you will succeed every time with this recipe!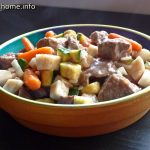 Harvest vegetable beef stew
Ingredients
2

lb

stew beef

2

zucchinis

cubed

2

turnips

cubed

3

carrots

cubed (or 1lb baby carrots)

1

onion

finely chopped

1/2

cup

of potato starch/flour

2

cups

beef stock

1

tbs

thyme

1

tsp

garlic salt

1

tbs

rosemary

1

tbs

parsley
Instructions
Coat the beef with potato flour and shake to remove any excess.

In a large frying pan (or the slow cooker on the saute setting), brown the beef.

Use a little of the beef stock to remove any residue from the bottom of the pan.

Add the chopped vegetables and the rest of the stock and herbs.

Slow cook for at least 4 hours, until the meat and vegetables are tender.