Grapes and cheese
Two simple ingredients – grapes and cheese – but they give your appetizers a unique twist!
Welcome to another in the series of 'I can't believe Sarah's posting this as a recipe'! You may recall similar 'recipes' such as bacon-wrapped dates, and homemade trail mix … Well, this is also not really a recipe as such, more of an idea, really. And it may help you to change up what you usually serve as appetizers for family and friends. Especially coming into this holiday season, I thought I'd just give you a fresh idea – grapes and cheese.
Yep, that's it. Get some grapes. Get some cheese of your choice. Cut up the cheese into cubes and stick a grape on top with a toothpick. So simple, right? But different …
We first came across this an idea when we lived in Chile. One of Henry's birthday parties, we invited our next-door neighbors and they brought this to share. Back then, when I could have dairy, I loved this. A great combo of the refreshing fruity taste of the grapes, with the creamy cheese flavor. Mmm .. is this worth me getting sick for again? Maybe not!
What I love about this 'recipe' is that you can change it up all the time, depending on what grapes are in season. Red, green, black – we also just discovered cotton candy grapes here … And you can change up the cheese depending on what you prefer – cheddar, swiss, pepper jack, whatever. So simple, kids can do it all by themselves as well.
Go on, give this combination a go – and let me know what you think!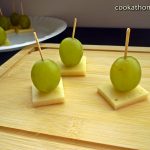 Grapes and cheese
(Gluten-free, possibly dairy-free)
Ingredients
12

grapes

100

g

cheese

dairy-free if needed
Instructions
Slice the cheese into cubes and place one grape on top of each cube. Secure with a toothpick.