Gordon's peanut butter and jam cookies
A chewy gluten and dairy free peanut butter cookie with a thumbprint of jam on top.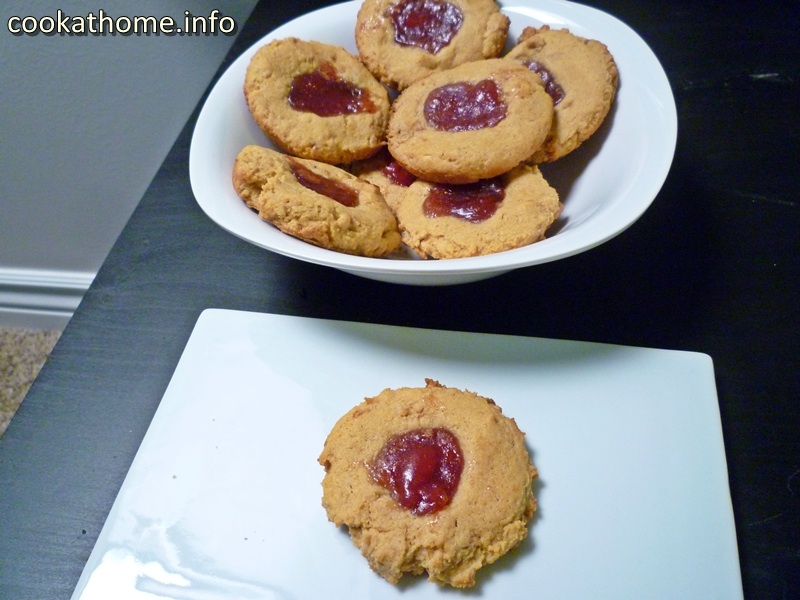 For those who haven't figured it out yet, I LOVE peanut butter. And I'm slowly getting used to the idea of coupling peanut butter with other condiments, such as honey and jam. This recipe comes to you from Gordon Ramsay's cookbook again and it is delicious … don't just trust me though, you have to try it for yourselves!
Gordon's peanut butter and jam cookies
2014-06-11 01:15:49
Nutrition Facts
Amount Per Serving
* Percent Daily Values are based on a 2,000 calorie diet. Your Daily Values may be higher or lower depending on your calorie needs.
Ingredients
185g all-purpose flour (gluten-free if required)
1 tsp baking powder
125g butter, softened (dairy-free if required)
200g peanut butter
185g brown sugar
3 tbs milk (almond milk if dairy-free required)
1 tsp vanilla
1 egg
100g raspberry jam
Instructions
Preheat the oven to 180C and line 2 baking sheets with paper.
Sift the flour and baking powder into a bowl.
Put the butter, peanut butter and the sugar into a large separate bowl and whisk until pale and fluffy.
Add the milk, vanilla and egg and beat until smooth.
Gradually sift in the flour mixture and beat until combined.
Drop by tablespoonfuls onto the prepared baking sheets. Using 1 or 2 fingers, press down in the middle of each one to make a shallow indent. Place 1/2 tsp of jam in each indent.
Bake for 10-12 minutes, until pale golden. Using a spatula, transfer the biscuits to a wire rack to cool before serving.
Cook at Home http://cookathome.info/