Brownies
Gluten free brownies that are so cakey and delicious – a treat for any meal, any time of the year!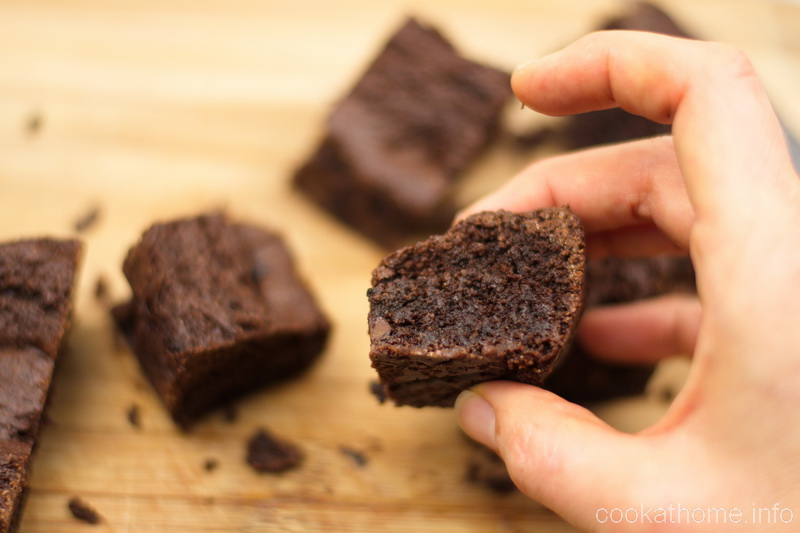 I think I put this gluten free brownies recipe on my website right at the very beginning of my website, back before I realized I needed to have photos and some little narrative about the recipe. So, I did what any good website blogger does – make the recipe JUST so I could take a photo to put here. You believe me, right? I just made these gluten free brownies for the photo … (cough, cough!).
Anyway, about these brownies. A lot of my brownie recipes (like these healthy zucchini brownies) are very fudgy and a lot of my brownie recipes (like these chocolate mint brownies or these healthy brownie bites) are quite crumbly. These are very cake-like. Probably more like a chocolate cake than a brownie, but anything with chocolate in it, is a winner in my book!
Give them a go and let me know what you think!
Gluten-free brownies
(Gluten-free, dairy-free)
Ingredients
3/4

cup

butter

dairy-free if needed

1/2

cup

cocoa powder

3/4

cup

white sugar

1

cup

brown sugar

3

eggs

2

tsp

vanilla

1/2

cup

rice flour

1/2

cup

potato starch

1/3

cup

tapioca starch

1

tsp

xanthan gum

1/2

tsp

baking powder

1/4

tsp

baking soda

1

cup

chocolate chips and/or nuts
Instructions
Preheat oven to 180 deg C. Grease and flour (with rice flour) a 9x13" baking pan.

In a large saucepan, stir the butter and cocoa over a low heat until melted. Remove from heat. Add the sugars and mix together with a wooden spoon or stiff spatula. Stir in the vanilla. Add the eggs one at a time, beating after each addition.

In a separate bowl, combine the rice flour, potato starch, tapioca starch, baking powder, baking soda and xanthan gum. Add this to the saucepan and stir until all the flour is moistened. Stir in half the chocolate chips or nuts.

Spread the batter into the pan. Sprinkle the rest of the chocolate chips/nuts over the top. Bake for 30 mins. Cool completely before cutting into slices.