Gingerbread cookies
A flavorful gluten and dairy-free gingerbread cookie, full of Christmas spices, but can (and should) be eaten any time of year!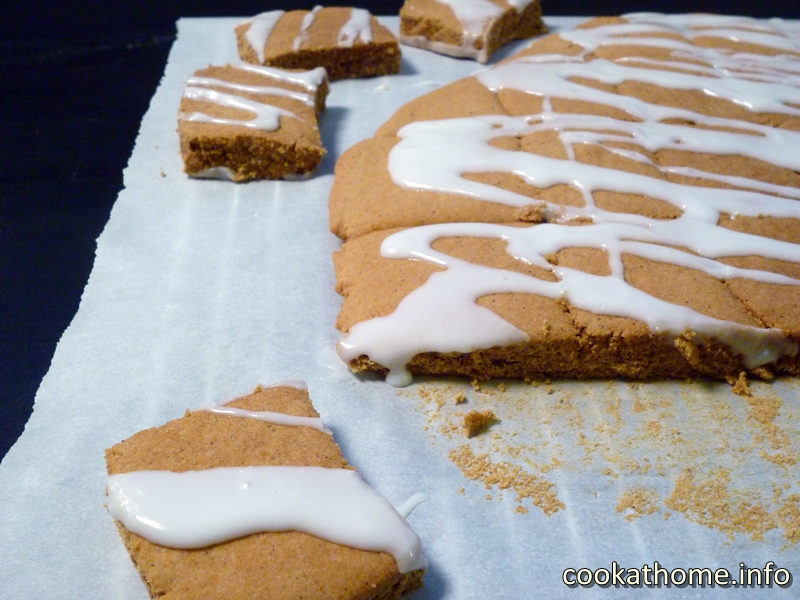 For those following The Blog, I have done it – I have found the gingerbread cookie taste that Grant has been after! These cookies originally didn't have any ginger in the ingredients, but that was quite soon remedied!
So this dough is quite dense, really (REALLY) difficult to roll out to any decent cookie thickness, but totally worth the effort at the end of it. Just think of how much your arm muscles will get built up! Full of gingerbread spices such as cinnamon, cloves and all-spice (and now ginger), with a lemon glaze on top. Considering I had never eaten the cookies that Grant had his mind set on, I don't think I did too badly finding this one out.
Gingerbread cookies
Ingredients
4

cups

all-purpose flour

gluten free if necessary

1 1/4

tsp

ground nutmeg

1 1/4

tsp

ground cinnamon

1/2

tsp

ground cloves

1/2

tsp

ground allspice

1

tbs

ground ginger

1

egg

3/4

cup

brown sugar

1/2

cup

honey

1/2

cup

molasses

1

cup

icing sugar

2

tbs

water

1

tbs

lemon juice
Instructions
Sift together the flour, nutmeg, cinnamon, cloves, ginger and allspice. Set aside.

Beat the egg and sugar together on medium speed in an electric mixer until light and fluffy, about 2 minutes. Scrape down the bowl as necessary.

Beat in the honey and molasses until thoroughly combined.

On low speed, stir in the flour mixture until just combined. It will be very sticky and tough, so be sure either your mixer is powerful, or mix it by hand.

Turn the dough out from the bowl onto a well-floured surface. Knead the dough, adding more flour as needed until a stiff dough is formed.

Wrap the dough in cling wrap and chill until firm, about 2 hours or even overnight.

On a well-floured surface, roll out the dough into a 9x12" rectangle. Cut the dough into 20 3x2" rectangles and bake at 180C for 10-12 minutes.

Transfer the cookies to a wire rack and let cool.

Whisk together the icing sugar, water and lemon juice and brush or spread on top of the cookies.

Allow the glaze to firm and then store the cookies in an airtight container at room temperature.
Recipe Notes

Adapted from Brown-Eyed Baker