How to get the most out of super spices in your daily life + a GIVEAWAY!!
Wednesday, October 11th, 2017 at 10:00 pm
Feeling worn down and tired all the time? Check out these ideas for how to use Pranayums super spice shots in your daily life
This post contains affiliate links, which means I receive a small commission if you make a purchase using this link. Please note that all opinions are my own!
As you may be aware, I love these Pranayums super spice shots and use them quite a lot in my daily life. I have noticed a distinct difference in my digestion and my emotions when I include them. So I wanted to share all the different ways that I have used them in the past, maybe to give you some ideas yourself. And keep scrolling down because you could win some to try in my GIVEAWAY (now closed)!!
But first of all, what are these Pranayums super spice shots?
Direct from the Pranayums website: These super spice shots contain turmeric, ginger, black pepper, cardamom, cinnamon and licorice root.
Turmeric – boosts immune system as sit supports healthy digestion
Ginger – helps to ignite the digestive fire, enhance immune response and reviatlize body and mind
Black pepper – detoxifies the body and stimulates digestion
Cardamom – assists digestion, circulation and metabolism
Cinnamon – healthy digestion and circulation, can offer comfort for headaches and congestion, and can be used as a sugar substitute
Licorice root – supports immunity, calms digestion and cold symptoms, enhances immunity response and elevates energy
So you can see, there's lots of good stuff in every single shot. But, short of just chugging these as shots (which I don't recommend), how do you incorporate all this goodness in your everyday life? Well, my friends, keep scrolling to see how I do it!
6 ways to use Pranayums super spice shots in your daily life
1. Morning wake-up
Every morning, before I have breakfast, I warm up some water, add some cinnamon and apple cider vinegar, and (you guessed it) some Pranayums super spice shots. And drink it. Before any food. I was a little skeptical of doing this at first, but it soon showed in better digestion and stomach feelings (without going into too much details). The trick is to make sure the water is warm, but not hot, and you mix it in thoroughly. As much as I love these shots, I do not love swallowing whole lumps of it at once!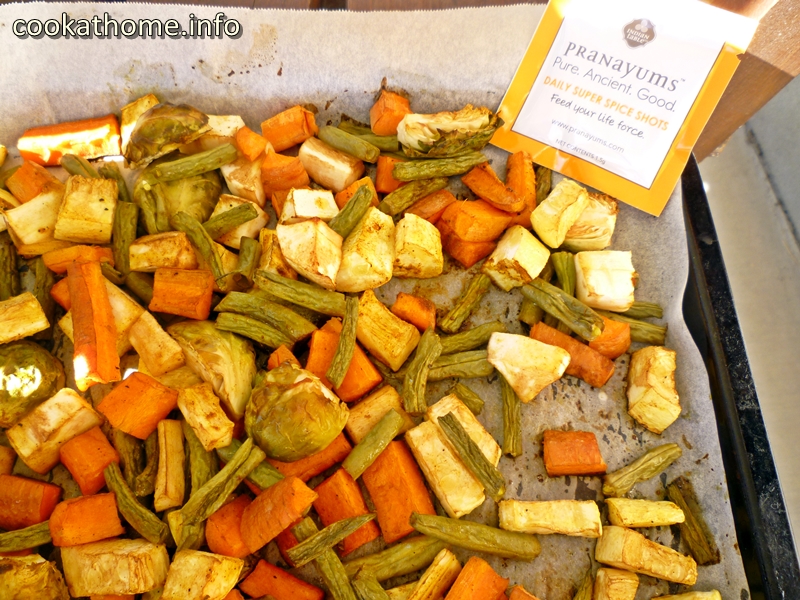 Since we've been in the US, I've discovered the joys of the reduced veggies at the local grocery store. But then there's always the dilemma of what to do with them to use them up before they go off? Well, I'm a big fan of roasting veggies in a big batch, and putting portion sized mixtures in the freezer. That way I've always got a stash of roast veggies to go with any leftover meats from family dinners, or adding some poached or fried eggs on top. And I often have this for lunch … or breakfast … or for our 'fend for ourselves' dinners. And adding the Pranayums spice shots to the veggies just gives it a different taste to normal. So versatile. So yummy. So nutritious!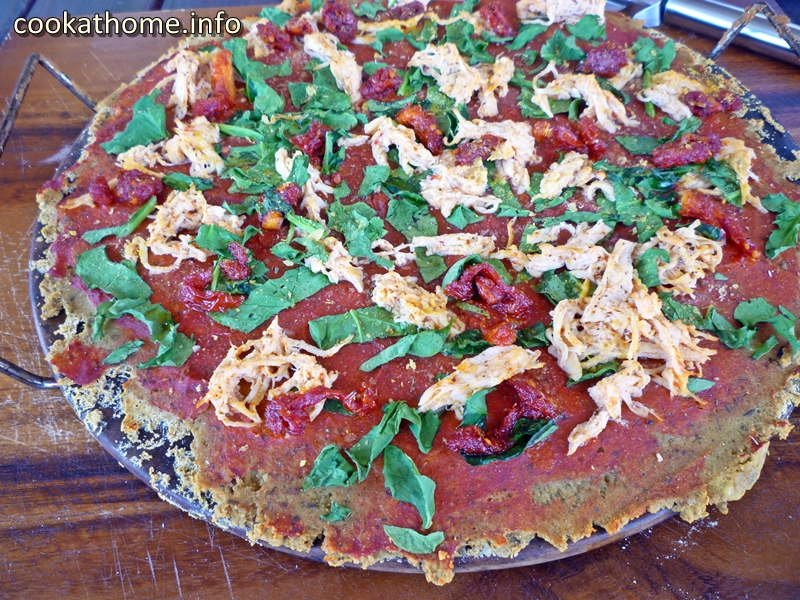 You may wonder what a pizza crust has to do with super spice shots? Well, in my coconut flour pizza crust recipe, it calls for some herbs and spices to be mixed into the crust, so I thought, why not use the Pranayums shots? And I gotta tell you, this flavor is amazing. Top it with whatever you wish, and know you're doing a good thing for your internals!
What to do when you run out of curry powder for a chicken coating? Well, I use Pranayums spice shots as a really good substitute. And with my trusty spiralizer for zoodles galore, this is one of my favorite meals – both at home and at work. Check out the recipe for the simple chicken seasoning … and feel free to change it up a bit!
Another really simple and easy way to get these Pranayums spice shots into your life – similar to the roasted veggies above, just sprinkle potato wedges with the Pranayums spices before putting in the oven and cooking them. I love changing up the spices I put on my potato wedges – but this one is a personal favorite of mine!
And last, but definitely not least, you can use these super spice shots in your baking. Because you all know that I am a baker at heart, so I had to figure out a good way to get nutrition into all the baked goods that I make. And these spices give this yummy cake, just that extra special something!
And now for the giveaway …!
Because I want you all to give these Pranayums super spice shots a go, I have a multi-pack available to give away to one lucky winner. All you have to do is comment on this post, letting me know what you would make if you won this prize.
Note that by entering this competition you agree to receive all sorts of yummy ideas and recipes for gluten and dairy-free cooking at home in your e-mail inbox!
US residents only please. This giveaway closes October 15, 2017. Winners will be contacted via e-mail shortly after.
6 ways to use Pranayums super spice shots in your daily life
So what do you think? Let me know what you'd make in the comments below, even if you aren't a US resident … and I'd also love to know how you make sure you get all the nutrients you need in your daily life.
Until next time, enjoy cooking at home … with Pranayums!
Sarah
Tagged with: giveaway • Pranayums
Filed under: The Blog!
Like this post? Subscribe to my RSS feed and get loads more!