Flourless honey almond cake
A light, flourless honey almond cake that is really yummy with cream, or just by itself!
This flourless honey almond cake has become one of my family's favourites – so much so that my daughter asked for it as her birthday cake last year (and again this year)!  It can be baked and stored for leftovers (if there are any).  Warming the cake and adding cream/ice cream (dairy-free if needed) is a highly recommended option.  Even if you eat it cold, I recommend drizzling some honey on top to make it slightly more moist as it can dry out relatively quickly.
A couple of tips:
Almonds: To toast the almonds, spread on a baking sheet and bake at 180C, stirring once, until fragrant, 7 to 9 minutes. However, if you're lazy (like I often am!), you can just process raw almonds in a food processor – we get about 1kg almonds at a time and ask a lovely friend of ours to make it into almond meal.  This can be stored in the freezer for quite a number of months and still work well in baking recipes.  Or you could just buy almond meal …!  And you can use this almond meal for many other recipes if you have leftovers, like this, or this!  Or you can just buy almond meal …!
Eggs: Eggs must be at room temperature for the proteins to unwind enough to support the cake's crumb. Either set the eggs out on the counter for 15 minutes or submerge them in their shells in a bowl of lukewarm (not hot) water for 5 minutes before using.
If you process the almonds and then just add the rest of the ingredients in the same container without moving to a separate bowl first, it's not a problem – I seem to always forget that step and my honey almond cake has always turned out quite well, if I do say so myself!
If you want to add some additional spice to this honey almond cake, try adding some cinnamon, or turmeric/cardamon like what you can get from Pranayums.  This is a spice mixture that consists of  turmeric, black pepper, cardamom, ginger, cinnamon, licorice root and other spices.  Note that if you decide to buy anything through this link, I receive a small amount of commission, but that's not why I recommend it.  I'm recommending it because it's yummy and it's good for you!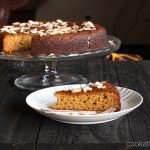 Flourless honey-almond cake
(Paleo, gluten-free, dairy-free, no refined sugar)
Ingredients
1 1/2

cups

whole almonds

toasted (or 1 3/4 cups almond meal)

4

large eggs

at room temperature, separated

1/2

cup

honey

1

teaspoon

vanilla extract

1/2

teaspoon

baking soda
Instructions
Preheat oven to 180°C/350F. Coat a 9-inch springform pan with cooking spray. Line the bottom with parchment paper and spray the paper.

Process whole almonds in a food processor or blender until finely ground (you will have about 1 3/4 cups ground). Skip this step if you have almond flour already.

Beat 4 egg yolks, 1/2 cup honey, vanilla, baking soda and salt in a large mixing bowl with an electric mixer (or use a paddle attachment on a stand mixer) on medium speed until well combined. Add the ground almonds and beat on low until combined.

Beat 4 egg whites in another large bowl with the electric mixer (use clean beaters on a hand-held mixer or the whisk attachment on a stand mixer) on medium speed until very foamy, white and doubled in volume, but not stiff enough to hold peaks, 1 to 2 minutes (depending on the type of mixer). Using a rubber spatula, gently fold the egg whites into the nut mixture until just combined. Scrape the batter into the prepared pan.

Bake the cake until golden brown and a skewer inserted into the center comes out clean, about 25-28 minutes. Let cool in the pan for 10 minutes. Run a knife around the edge of the pan and gently remove the side ring. Let cool completely.

If desired, remove the cake from the pan bottom by gently sliding a large, wide spatula between the cake and the parchment paper. Carefully transfer the cake to a serving platter. To serve, drizzle the top of the cake with honey and sprinkle with sliced almonds.