Flourless brownie cookies
Rich and cake-like flourless brownie cookies that are gluten and dairy-free with an awesome texture.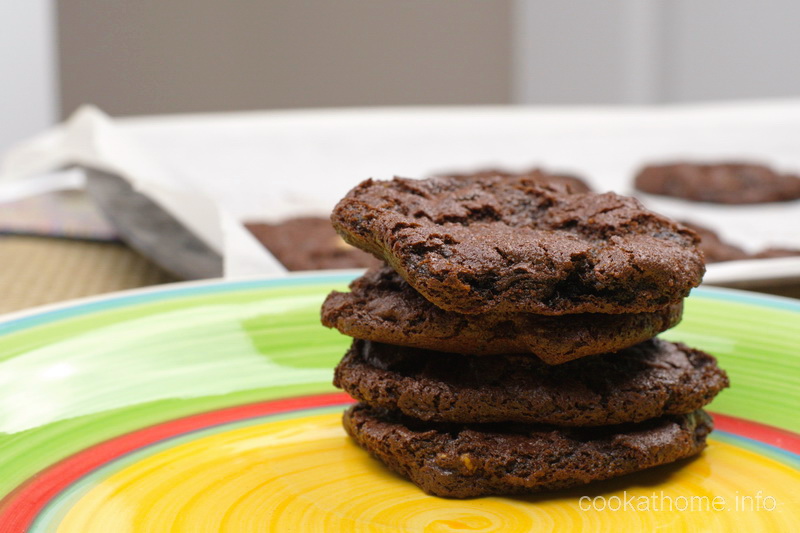 For some reason I was surfing around on the internet and came across a new website for gluten-free cooking. I found this recipe for flourless brownie cookies and thought I just had to try it. The original recipe comes from yammiesglutenfreedom.com and I adapted as needed for Chilean ingredients (as we were living in Chile at that time).
It's a cake-y, crunchy texture and is very easy, very yummy. Ticks all the boxes for me!
Couple of points:
Don't add all the cocoa at once – you will end up choking through a cloud of cocoa powder as the mixer tries to combine it with the wet ingredients (speaking from experience!).
The original recipe used brown sugar, but as Chile didn't seem to have this readily available, I just used raw sugar. It made the cookies a little crunchier, as I think the brown sugar would have made them more soft and fluffy – but you take what you can get! You can also use coconut sugar if you'd like.
Chilling the dough was a recommendation from one of the other users from the website, and it seemed to help the cookies stay together during baking.
I rolled the dough into little balls and then slightly pushed down on the top – they didn't spread that much during the baking process.
If you're into flourless baked products – check out these flourless brownies, or tahini cookies, or honey-almond cake, or just search for 'flourless' in the box on the right hand side!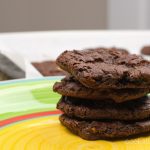 Flourless brownie cookies
(Gluten-free, dairy-free, grain-free)
Ingredients
1/2

cup

softened butter

dairy-free if needed

1/2

cup

raw sugar

or brown sugar, or coconut sugar

1/2

cup

white sugar

1

egg

1

tsp

baking soda

1

tsp

vanilla

1

cup

cocoa powder

1/2

cup

white chocolate chips

or chopped nuts

1/2

cup

milk chocolate chips

dairy-free if needed
Instructions
Preheat oven to 180C.

Cream butter and sugars until very well mixed. And then keep mixing for another few minutes.

Add egg and vanilla and mix well.

Separately mix baking soda and cocoa powder and gradually add to butter/sugar mixture.

Stir in chocolate chips (and nuts if using).

Put in refrigerator for 10-20 minutes.

Drop by tablespoon-size amounts onto a baking tray and bake for 10-12 minutes.

Leave to cool slightly on baking tray before removing to a wire tray to finish cooling.