Experiments in the kitchen
Sunday, March 2nd, 2014 at 5:14 pm
I didn't get to post a blog (or cook, for that matter) last weekend as I was travelling, but as soon as I got back I got right back into the kitchen and tried out a few things.
Almost as soon as I got home from the airport I went into Monster Cookie mode! I had thoughts of trying a few things with this all-time favourite recipe of mine, just to see what happened. So here are the 3 trials:
Follow the recipe (here)
Chill the dough since I microwaved the butter to soften it up
Process part of the oats to see if the texture changed
And the results … no significant difference between the normal and chilled cookies, but the processed ones were a little more chewy. I don't think I'll bother processing in the future, but it was a good experiment to try. Oh, and yes, I sampled bits of each type of dough as well as the finished product … in the interest of science, obviously!
We had a dinner to go to on Saturday night, so Grant thought it would be a great opportunity to use up some more of our peaches … yes, the tree in our backyard is still full of them! I tried to make a peach melba slice, but considering the recipe called for 250g butter and 300g sugar, it was really REALLY buttery. I may have overcooked it as well, but it tasted good warmed up with ice cream!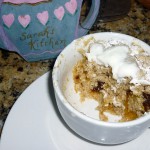 Sunday morning I thought I'd try something different for breakfast. I subscribe to a blog called 'Chocolate covered Katie' and I get recipes in my e-mail inbox on a regular basis. This one came in over the weekend, and as I had all the ingredients, I thought I might as well try it. The actual recipe is called 'single-serving cinnamon roll', but mine turned more into a 'cinnamon, date and peach oatcake'. I might try it again – if it works better, I'll put my version of the recipe on here.
Then for Sunday lunch, we had taco quesadillas (mince, beans, shredded cheese and other veggies in between 2 corn tortillas, lightly fried – thanks Grant!) and for dessert I thought I'd continue the theme of experimenting – so tried 4 different single-serving recipes: a one-minute chocolate cake with chocolate peanut butter frosting, a chocolate peanut butter mug cake, a single-serving banana muffin (recipe actually called for tinned pumpkin and chocolate chips, but I substituted mashed banana instead) and a chocolate chia pudding. The kids actually prefered the banana muffin over all of them. I didn't mind either of the chocolate cakes, but probably prefered the one with peanut butter incorporated and the last place went to the chia seed pudding.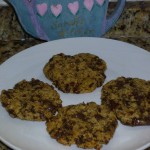 And finally, I wanted to try a quinoa chocolate chip cookie recipe. Don't think this was a great success, but it wasn't a dismal failure. Interesting texture, not sure if I want to try it again though.
And then I went for a walk … a long walk!
As an added bonus for you, let me tell you about my experience with cooking scrambled eggs in a microwave. I had a microwave and a fridge in my hotel room, so instead of getting frozen dinners or tinned soup, I thought I'd try to make my own scrambled eggs. The first night, didn't work so well as the eggs cooked too much on the outside of the bowl and not at all in the middle. After chatting with a few people, I realised I had to cook them in 10 second increments and stir well before the next 10 seconds. This worked much better and tasted really good too! Just two eggs and two pieces of ham torn up …
Next weekend I'm helping out with the catering for lunch for 70+ people … using some of my favourite recipes. I'll let you know how it goes!!
Until then – happy cooking at home!
Sarah
Filed under: The Blog!
Like this post? Subscribe to my RSS feed and get loads more!