Empanadas
A gluten and dairy-free option for the classic South American empanada.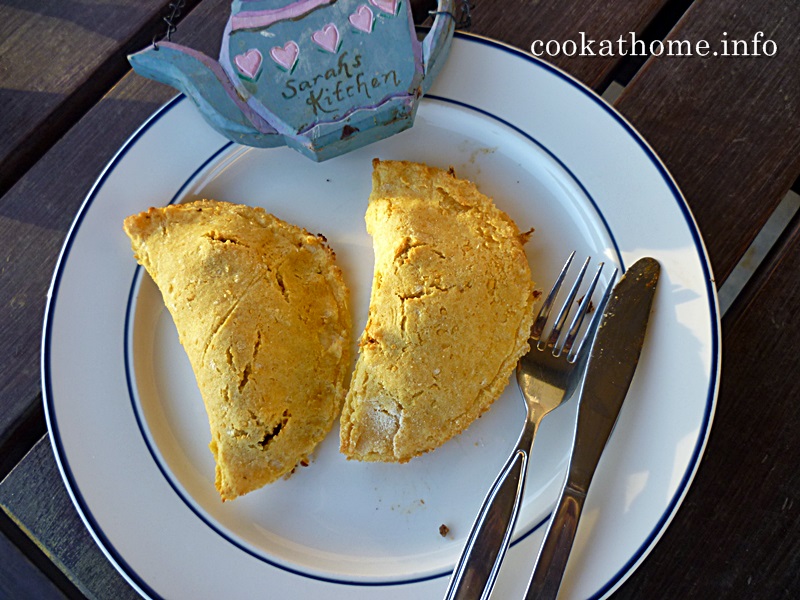 As many of you may know, my family lived in Chile for a number of years. And while we were there, we were introduced to the empanada. Which is different to the American empanada. Which is mostly a dessert, similar to the Australian turnover. Confused? Well, this recipe is for the savory version of the empanada, similar to what you may get in South American countries.
While we didn't really like a lot of the traditional Chilean fillings (they had olives in them), we really liked the Peruvian ones, and the Argentian ones, and the Columbian ones. When we were in Chile, we found some empanada pastry casings, that we could put in whatever fillings we liked, and bake them in the oven. We had ham and cheese, pizza (tomato sauce, meat and cheese), tacos, spinach & ricotta, aji de gallina, chicken casserole, basically any leftover casserole-type fillings. They were awesome.
And then we discovered my gluten intolerance, so my empanada eating days in Chile were over. It was a sad day. But the Columbian ones we had, at a Columbian restaurant in Santiago, were gluten-free, so I was able to have some again. That was a happy day!
Anyway, since then, we've moved to two other countries and haven't had the opportunity to have any empanadas since, especially now with my real 'special snowflake-ness' of being gluten AND dairy intolerant. Until I found this recipe. This was in a book I was given at Christmas time (thanks Kym and Steph) and I'd always bookmarked it to try it. But always had other things I wanted to try to make (like things combining chocolate and peanut butter in any proportion!). Anyway, this weekend, I told the family that I would make them. And I did. And they were awesome. Even the next day. Cold. I love food like that – it tastes great when it's first made and it tastes awesome the following day without any further heating up.
Enough rambling. Go on – try this recipe. I dare you!
Empanadas
Ingredients
For the pastry
2

cups

grated sharp cheddar cheese

dairy free if necessary

1

onion

4

tbs

butter

or non-dairy margarine

2

eggs

2

cups

cornflour

1

tbs

xanthan gum

1/2

cup

water
For the filling
2

tbs

olive oil

1

onion

1

tsp

garlic salt

1

lb

ground beef

1

tbs

chilli powder

1

tbs

ground cumin

1

tbs

paprika

1

tbs

Worcestershire sauce

1

cup

finely chopped spinach

1-2

cups

water
Instructions
For the crust
Place onion, cheese, butter/margarine and eggs in a food processor and process until the onion is very fine.

Add the cornflour and xanthan gum and mix well. The mixture will be very crumbly, so add water until the dough becomes a solid ball. It takes a while, but it does happen!

Remove the dough from the processor and form into 15-16 equal-sized balls. Roll out into circles to approximately 1/4" thick onto a lightly floured work surface (I used parchment paper). Set aside until filling is ready.
For the filling
Saute the onion in the oil until translucent. Add the rest of the ingredients except for spinach and stir until the beef is browned.

Add water to cover the mixture and allow to cook until no pink remains in the beef.

Just before serving, add in the spinach and allow to wilt.
For the assembly
Preheat oven to 400F.

Place approximately 1 tbs of filling onto one half of the dough circle and fold in half to create a pocket. Press your fingers into the dough to seal it closed.

This will be very crumbly, but allow at least some slits to ensure ventilation during baking.

Transfer to a greased baking pan and bake for 15 minutes.

Enjoy served hot or cold with sour cream, salsa, guacamole or whatever other toppings your tastebuds desire.
Recipe Notes
Adapted from The Gloriously Gluten-Free Cookbook (Vanessa Maltin)