Date Nut Bread
This date nut bread is a moist, fruity gluten and dairy-free bread using dates, with nuts for some crunch, and is the perfect snack!
Dates … for so many years I've been using just pitted dates that have been packaged in the grocery stores. Recently I found Medjool dates … and my world has changed forever. These dates are so much sweeter, much softer, so much more yummy! I've been using Medjool dates in my 'healthy' granola bars for a while now and have been loving them immensely! Try them and see for yourselves,
This bread came about during my National Food Days quest – did you know there was a National Date Nut Bread Day? It's apparently on September 8, and I looked around for some recipes to try out for it. This was was by far the winner. It's sweet, but not too sweet. It's crunchy, but not too crunchy. And it's bread – without any gluten or dairy. What more could you want?
It's also relatively versatile – one time I had some leftover pumpkin purée that I tried in place of the egg and it really gave the fall flavor that we love!
But don't take my word for it – try this date nut bread out and see for yourselves!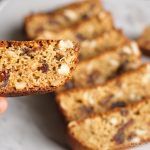 Date Nut Bread
(Gluten-free, dairy-free)
Ingredients
1

C

chopped Medjool dates

1

C

sugar

2

tbs

dairy-free butter

1

C

boiling water

2 1/4

C

gluten-free flour

1

tsp

baking soda

1

tsp

baking powder

1

tbs

cinnamon

1

C

chopped nuts

1/2

cup

pumpkin purée or 1 egg
Instructions
Preheat oven to 350F (180C).

Pour boiling water over the dates, sugar and butter and let cool.

Mix flour, soda, cinnamon and baking powder.

Stir into dates, add nuts and mix well.

Stir in egg/pumpkin and blend thoroughly.

Pour into greased loaf pan and bake for an hour.

Leave to cool prior to slicing.