Dairy-free chocolate peanut butter fudge
A dairy-free chocolate peanut butter fudge packed full of the essential chocolate and peanut butter flavors!
Ahh, fudge, how I love thee! And how I have missed thee. My normal fudge recipe, which is so easy (see here) uses sweetened condensed milk, which my system does not appreciate at the moment (I hate being lactose intolerant to add to all the other dietary problems I have!). Although I have found some sweetened condensed coconut milk that substitutes quite nicely in that recipe. Anyway, I found this recipe and thought I'd give it a go.
While making this chocolate peanut butter fudge for the first time, I was skeptical about the texture. When I put it in the freezer to chill, I was skeptical that it would set. When I took it out of the freezer, I was skeptical about the taste. But then I tried some. And loved it. The only problem is that it melts pretty quickly so keep it in the freezer and only take it out just before you want to eat it. This may actually help not eating too much of it – if you have to take individual pieces out each time. Or you could justify it to yourself that you're walking each time to the freezer … either way, try it and love it!
I love using good quality peanut butter, like Crazy Richards and you can use either creamy or chunky, depending on whether you want to have bits in the fudge or not. And for dairy-free chocolate, you can't go past Enjoy Life foods … I'm not paid by either of these companies to say these things – they are just the brands that I use!
I made this chocolate peanut butter fudge again the other day and realized that cooking coconut milk and sugar down before adding the chocolate chips is basically the same as using sweetened condensed milk. So here you go, for those of you who don't have access to dairy-free sweetened condensed milk … give this one a go!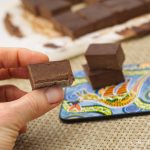 Chocolate peanut butter fudge
(Gluten-free, dairy-free)
Ingredients
2

cans

full fat coconut milk

1/2

cup

sugar

3

cups

dairy-free chocolate chips

1

tsp

vanilla

1 1/2

cup

peanut butter
Instructions
Bring the milk and sugar to a boil in a medium saucepan.

Allow to boil until the mixture is reduced by about half in volume (approximately 10 mins).

Remove from heat and add the chocolate chips and vanilla and stir.

Add peanut butter and stir thoroughly.

Chill in freezer for 2-3 hours before slicing.

Keep in freezer until just before eating as it melts rapidly.