Cupcakes or donuts?
Wednesday, July 27th, 2016 at 1:16 pm
Welcome back to cooking with kids! It's been a while, but Abby hasn't stopped coming up with new and interesting ideas for me to test out in the kitchen. Sometimes she helps. Sometimes she doesn't. I think her watching of food shows has slowed recently – but she's still got a few crazy combinations of ingredients and flavors she wants to try. And that's where this experiment comes in.
If you remember, she was really into cupcakes a while ago. Now, she wants to revisit her ideas for cupcakes and make them into donuts. Hmmm. I'm not entirely sure where this is going, but I'll go with the flow for a while I guess. This experiment (as written on our family whiteboard in the dining room):
Chocolate donuts, peanut butter glaze with caramel drizzle and chocolate chip cookie.
Yeah, I wasn't too sure either. But we were invited to a friend's house for a BBQ and I thought it would be a perfect opportunity to show off Abby's creativity (cough!). However, just to complicate matters, our friend is allergic to rice – who knew there were more special snowflakes out there apart from me? Unfortunately, most donut and cookie recipes that I was thinking of used all-purpose flour. Which normally wouldn't be a problem apart from me being gluten intolerant, and most gluten-free flour mixes use rice flour.
Thinking cap on …
And I came up with this:
Chocolate donut using my healthy donut recipe (here), includes oat flour, bananas, maple syrup and a whole host of all natural ingredients
Chocolate chip cookie using the almond butter cookie recipe (here), includes almond butter, honey, dairy-free chocolate chips and eggs
Peanut butter glaze – a simple combination of peanut butter, honey and a little bit of almond milk
Chocolate frosting – a mixture of dairy-free chocolate chips and sour cream (leftover from many other experiments!).
Abby had a go at decorating the way she wanted them to look:
Kind of looked like UFO's … I shared a half of the ensemble with Grant and we both felt it was way too much 'bread' type stuff. Very chewy and missed out on all the flavors. So Abby and I went back to the drawing board and came up with this: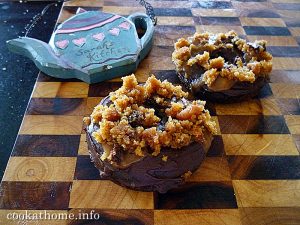 Basically we scraped the cookies off the top, with whatever peanut butter glaze came with them. Then crumbled the cookies and literally stuck the crumbs on the donuts. A very sticky process, that resulted in many comments from Abby, but much better for the overall taste and texture combination.
And the ultimate test? At the BBQ, almost everyone that was there took at least one home with them to have at their leisure. They were a great success – and all without processed sugar (and rice!).
Unfortunately Abby still wants to try HER combination with real ingredients (read: proper sugar and flour). I'll see how long I can delay her (hoping this is just a passing fad …!).
Thanks for reading! Feel free to comment, share and/or try any of these recipes – I'd love to hear from you!
Until next time, enjoy cooking at home … with kids!
Sarah (and Abby!)
Filed under: Cooking with kids
Like this post? Subscribe to my RSS feed and get loads more!