Creamy paprika chicken
This creamy paprika chicken is a simple recipe that will cause your intended audience to love the smoky paprika flavor on tender chicken pieces.
Chicken – how can anyone not like chicken? Our family certainly does – from crispy chicken tacos, to chicken risotto, to orange chicken, paella and even chicken pizza!
Well, this creamy paprika chicken is an awesome easy-to-whip up dish that can be modified and served with whatever veggies you have lying around. Originally the recipe called for cream cheese, but I substituted this with coconut cream and no one could really taste the difference. So, if you are not afflicted with being lactose intolerant, use 125g soft cream cheese in the sauce. If you are afflicted, use a can of coconut cream or full fat, that's right, you have to use the full fat stuff, of coconut milk. Just be aware that it may not be as thick as you expect. You can try thickening it up with some corn-starch (which I did), but it is also quite nice on the runny side.
The last time I made this creamy paprika chicken dish I was in a real hurry after we invited a couple around for lunch before realizing that what we had planned for lunch couldn't extend for another 2 people. A quick trip to the store, mainly to buy chicken since ours was still in the freezer, and within 30 mins the dish was done. And yummy. Just ask our guests!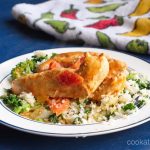 Creamy paprika chicken
(Paleo, Whole30, gluten-free, dairy-free)
Ingredients
6

chicken fillets

either breast or thighs

1

onion

finely chopped

2

cloves

garlic

finely chopped

1

tin

diced tomatoes

2

tbs

smoked paprika

1

tin

coconut cream or full-fat coconut milk

2

tbs

dried parsley for garnish
Instructions
Heat a little oil in a frying pan and brown the chicken pieces. Once browned, set these aside and make the sauce.

Saute the onion and the garlic until they are soft and semi-translucent.

Add the diced tomatoes and paprika and stir until well combined.

Add the coconut cream/milk and allow to simmer/thicken for 5-10 minutes.

Add the chicken back into the frying pan and cook until the chicken is done.

Sprinkle parsley on top to garnish each serving.