Copycat Epic Bars – Turkey, walnuts and dates
Copycat Epic bars – made at home with Whole30 compliant turkey, walnuts and dates
Since I was shown so much love with my first Copycat Epic bars recipe (see here), I thought I'd change up a few of the ingredients this time. To be honest, Grant was so confident that the first batch was going to be a success, he actually suggested we just buy a whole pile of ground meat of different varieties and give them all a go.
So this one is a combination of ground turkey, walnuts and dates. I've kept the coconut aminos in there – if you're not on a Whole30 or have any issues with soy, feel free to use the gluten-free tamari sauce, or even soy sauce if you don't have any gluten intolerances. But I've changed up the herbs as well – I wanted to have a bit more of an Italian feel, so I've used basil, oregano and parsley. And you know what? I'm not sure which one of these I prefer more … the original beef one, or this turkey one.
And I'm always open to suggestions for other combinations of ingredients. For example, what herbs and spices would you put with a ground pork meat bar? Or chicken? The sky's the limit! Let me know what other flavors of copycat Epic bars you'd like to see in the comments below!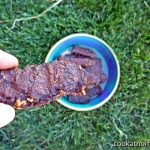 Copycat Epic bars - turkey, walnuts and dates
(Paleo, Whole30, gluten-free, dairy-free, no added sugar)
Ingredients
1

lb

ground turkey

1/4

cup

coconut aminos

1

cup

chopped walnuts

1

tsp

basil

1

tsp

oregano

1

tsp

parsley

1 1/2

tsp

garlic salt

5

Medjool dates

pitted
Instructions
Place all the ingredients except for the ground meat in a good quality food processor and blend until a paste forms.

Combine this mixture with the ground meat and use your hands to mix well.

Place between two pieces of parchment paper, and using a rolling pin, roll out to a rectangle, approximately 1/2" thick.

Remove the top parchment paper and slice into bar shapes, approximately 1" wide and 3" long.

Place onto a separate piece of parchment paper so adjacent bars do not touch.

Once the Traeger grill is ready, set to 'smoke'.

Place all bars either directly on the grill plates, or on the parchment paper. Try not to leave a metal pan underneath as air flow is critical.

Close the lid and allow to smoke for 5-6 hours, or until the internal temperature reaches 160F.

Remove from the grill and allow to cool prior to eating.

Store in individual bags either in the refrigerator or the freezer.
Recipe Notes
If you do not have a Traeger grill, follow the steps above, but place in oven at the lowest possible setting (150-170F) for the same amount of time.
This recipe can also be used in a dehydrator.