Copycat Epic Bars – Beef, pecans and cranberries
Copycat Epic bars – made at home with Whole30 compliant beef, pecans and cranberries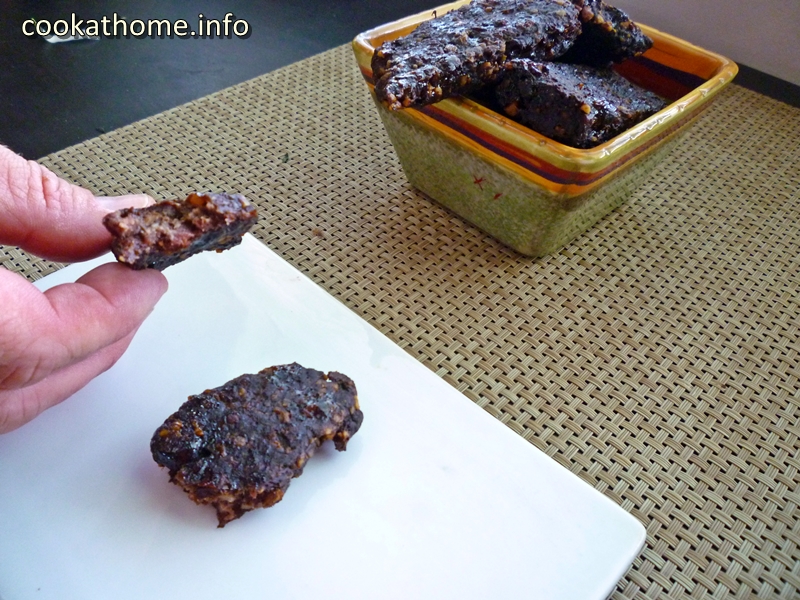 If you've been following along on my Instagram, and some of my posts here, you'll know that I have fallen in love with Epic Bars. These are grass-fed/pastured jerky bars and bites, animal fats for cooking, and sippable bone broths, and have the tick of approval from the Whole30 people. And I've taken them on our many and various road trips (see here and here). I also love them after a particularly sweaty workout, like running. Or just when I need something to eat, but trying to stay away from the 'food with no brakes' combination of dried fruits and nuts.
Grant and I recently bought a Traeger grill. Basically a smoker and a BBQ in one. And since we bought it, we've been having meals cooked on it probably 2-3 times a week. We love it. What does that have to do with an Epic Bar? Well, being that I love cooking at home (hence the name of this website), and that Grant wanted to try something different on the Traeger, we decided we'd try to make these meaty bars at home. On the Traeger. Now, if you don't have a Traeger, feel free to follow this recipe and put them in the oven at the lowest temperature possible (around the 150-170F) or in a dehydrator.
I gotta say, making these bars was so much fun. Although I'm not sure whether the fun came out of the tossing up ideas with Grant, or lifting the lid on the Traeger and smelling the goodness in the flavors, or just eating them. I think it was eating them. Yep, that's it. And knowing that eating one of these is good for my body, filled with good, wholesome ingredients.
In summary – blend up all the ingredients in a food processor, shape into bars, smoke/dehydrate for a long time and enjoy these copycat Epic bars. Stay tuned, there will be more variations on this recipe coming soon!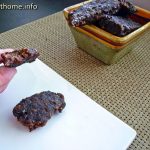 Copycat Epic Bars - beef, pecans and cranberries
(Paleo, Whole30, gluten-free, dairy-free, no added sugar)
Ingredients
1

lb

ground beef

as lean as possible

1/4

cup

coconut aminos

1

cup

pecans

1

tsp

ground ginger

1

tsp

ground sage

1 1/2

tsp

sea salt

1/4

tsp

ground black pepper

1/4

cup

dried cranberries

no added sugar for Whole30
Instructions
Place all the ingredients except for the ground meat in a good quality food processor and blend until a paste forms.

Combine this mixture with the ground meat and use your hands to mix well.

Place between two pieces of parchment paper, and using a rolling pin, roll out to a rectangle, approximately 1/2" thick.

Remove the top parchment paper and slice into bar shapes, approximately 1" wide and 3" long.

Place onto a separate piece of parchment paper so adjacent bars do not touch.

Once the Traeger grill is ready, set to 'smoke'.

Place all bars either directly on the grill plates, or on the parchment paper. Try not to leave a metal pan underneath as air flow is critical.

Close the lid and allow to smoke for 5-6 hours, or until the internal temperature reaches 160F.

Remove from the grill and allow to cool prior to eating.

Store in individual bags either in the refrigerator or the freezer.
Recipe Notes
If you do not have a Traeger grill, follow the steps above, but place in oven at the lowest possible setting (150-170F) for the same amount of time.
This recipe can also be used in a dehydrator.