Chocolate peanut butter cheesecake
A gluten/dairy and refined sugar free peanut butter and chocolate cheesecake. Good for you and tastes great too!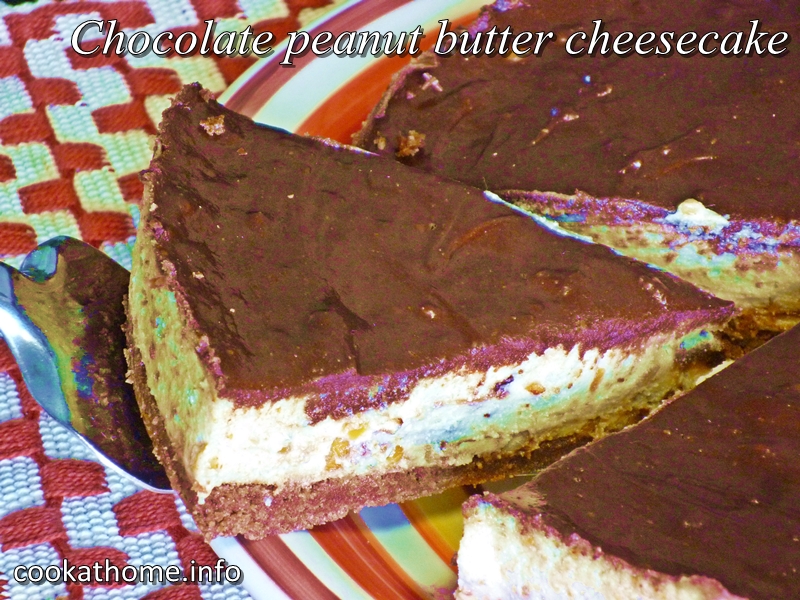 At last, a cheesecake recipe that is gluten and dairy free, no refined sugar, but seriously tasty! I think this was one of my best cheesecake attempts out of all I've tried, and not just the gluten/dairy/refined-sugar free ones as well. It might have something to do with the fact that it was the combination of chocolate and peanut butter, which you really can't go too far wrong with!
So this recipe was given to me from one of the ladies at church, who got it from Chocolate Covered Katie (see here) and wanted to make a more peanut butter cheesecake than a chocolate one (I know, who would have guessed?!). So I gave it a try and it was awesome. But I didn't write down the changes that I made, so I just HAD to make it again. And this time I wrote down what I used just for all of you chocolate & peanut butter lovers out there (I'm looking at you in particular, Jessica!).
Really, really easy recipe. Just make sure that you blend everything so it's really smooth and creamy. And feel free to experiment yourselves. And let me know how you go.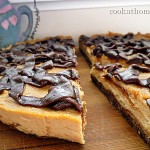 Chocolate peanut butter cheesecake
2015-11-17 18:26:48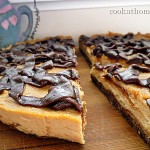 Nutrition Facts
Amount Per Serving
* Percent Daily Values are based on a 2,000 calorie diet. Your Daily Values may be higher or lower depending on your calorie needs.
For the base
2 1/2 cups almond flour
1/2 cup coconut oil
1/2 cup maple syrup
1/4 cup cocoa powder
For the filling
12.3 oz extra firm tofu (1 packet)
1 tsp vanilla
2 tbs almond milk
1 1/2 cups creamy peanut butter
1/4 cup maple syrup
1/2 tsp salt
For the topping
1/2 cup creamy peanut butter
1/4 cup maple syrup
2 tbs cocoa powder
1 tbs almond milk
For the crust
Preheat oven to 350F and prepare a medium springform pan.
Mix all ingredients together well in a medium bowl. The dough will be sticky but keep persisting until well combined.
Form in a lined 8x8" springform pan and bake for 12 mins.
(You may have leftovers - feel free to add 1/2 tsp baking soda, shape into cookies and bake alongside the crust).
For the filling
Blend all ingredients in a food processor or blender until super smooth and creamy.
Pour into crust and chill for approximately 1 hour.
For the topping
Mix all ingredients together.
Pipe (or spoon) topping on top of chilled cheesecake filling and store in refrigerator until ready for serving.
Notes
This is best made the day before serving - the texture just gets more and more creamy!
Adapted from Chocolate Covered Katie
Adapted from Chocolate Covered Katie
Cook at Home http://cookathome.info/