Chocolate orange cake (Jaffa cake)
Sunday, June 14th, 2015 at 10:11 pm
First of all, the reason why I didn't post anything last week was because our Mummy-Abby time was spent on a camping trip, rather than baking. Abby and I climbed up some mountains and had some good chats while trying to figure out how to get down again! This is a picture of us at the top in the middle of nowhere, but lov
And now, for our cooking adventures this weekend – we went with a chocolate orange cake. For those of you in Australia, you will remember the Jaffa chocolate balls, that we used to roll down the aisles in the movie theaters … or was I the only one that seemed to have that happen to them? Grant can definitely remember doing that, being around those who did that when he was a kid! This is a really easy cake – the hardest thing is worrying that you've put on the oranges in the saucepan and either forgotten about them and the pan's boiled dry, or put too much water in the saucepan and it's boiled over.
Simply put, take 2 oranges and place in a saucepan of water. Bring to a gentle boil and simmer for about 2 hours. After cooling, put the oranges in a food processor and blend until just a few chunks remain. Add the rest of the ingredients (almond meal, cocoa powder, eggs and a few other things) and blend further. Then pour into a cake pan and bake. Simple! I topped ours with some powdered/icing/confectioner's sugar and then some orange zest for decoration.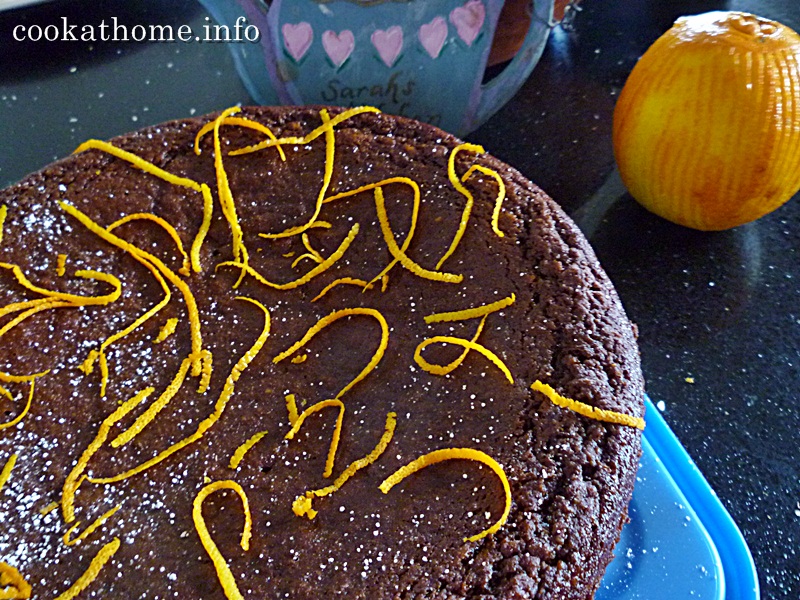 We had some friends over for lunch – one was an Australian (hi Graham!) and he remembered the whole Jaffa thing. The other friends (hi Leslie and Mark!) are American, but they loved the cake as well. And you too can make this cake – just let me know if you want me to put the recipe on the website in the comments below and I will!
I also made a dairy-free gluten-free lemon cheesecake with the ginger cookies as a base (recipe here) using a few packets of tofu and all natural, no-refined-sugar as an experiment and it worked ok. Not good enough yet for the website, but definitely something to continue trying out!
Next weekend is Father's Day, so Grant has requested Worms in the mud (recipe here). Again, I'll be trying to make it yummy but still gluten and dairy-free. If this one works out – I'll post a separate recipe for you all to try!
Remember you can subscribe to get my latest recipes (like oat balls, banana bread and soft-baked oatmeal bars to name a few), you can comment on anything on this website – basically I'd love to hear anything from you guys!
Until next time, enjoy cooking at home … with kids!
Sarah
Filed under: Cooking with kids
Like this post? Subscribe to my RSS feed and get loads more!