Chocolate matcha slice
Using the extra goodness of the superfood matcha, this chocolate matcha slice is a match(a) made in heaven!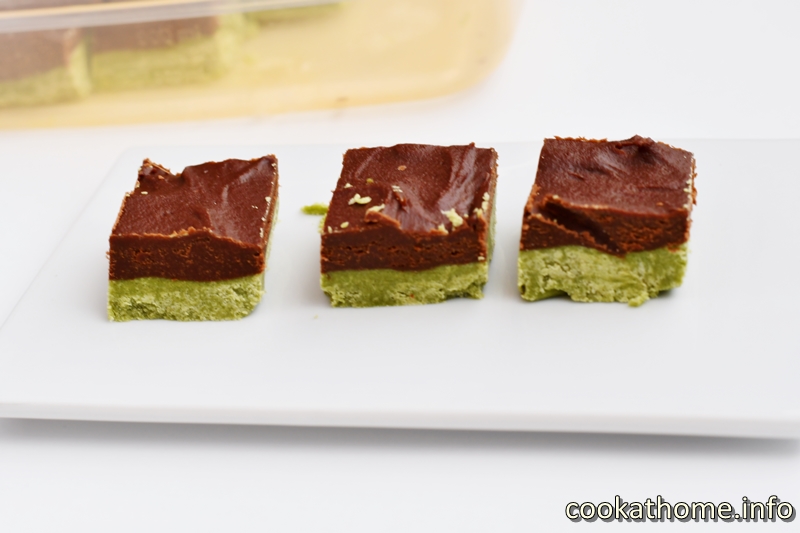 Welcome to another recipe inspired by my perusing social media. Matcha. Who knows what this is? And why it's so popular? Well, it's a finely ground powder of specially grown and processed green tea leaves. While most people are aware of the benefits of green tea, the matcha powder has these in a more potent version – being rich in antioxidants to protect against heart disease and cancer, better blood sugar regulation, blood pressure reduction and anti-aging. It's also known to boost metabolism and may contain up to 3 times as much caffeine compared to a cup of steeped tea (just warning!).
And it's green. So I wanted to use it to make something healthy. That involved chocolate (because that's how I roll!). And so this chocolate matcha slice recipe was born.
It's based on my healthy chocolate sunbutter slice, but I've found using coconut butter (when it's melted) actually works really well in so many different areas. And here's one of them, because it doesn't dilute the awesome green color of the matcha. For the chocolate part, feel free to use coconut butter, or any other type of nut butter, as it's not so important in terms of the color!
Now the taste testers of this recipe have said 'this is my favorite thing you've ever made', and 'you could market this'. But, I'm giving you all the recipe for free, because I love you so much! Trust me – it's worth going out and getting some matcha. I actually got some on special which inspired me to make this chocolate matcha slice, but feel free to scout around and try lots of different brands! Basically, just try this chocolate matcha slice recipe. Because you should and you can!
Chocolate matcha slice
(Paleo, gluten-free, dairy-free, no refined sugar)
Ingredients
For the matcha layer
1/2

cup

coconut butter

125g

1/4

cup

maple syrup

65g

2

tbs

matcha powder

26g

2

tsp

vanilla extract

2

tbs

coconut flour

14g

1/2

cup

almond flour

54g
For the topping
1/2

cup

coconut butter

125g

1/2

cup

maple syrup

125g

1

tsp

vanilla

2

tbs

cocoa

25g

2

tbs

almond milk
Instructions
For the matcha layer
Combine all ingredients well. If the coconut butter is hard, microwave in 15 second increments to enable good mixing.

Spread into an 8.5x11" loaf tin lined with parchment paper and chill in the freezer for 30 mins.
For the chocolate layer
Combine all ingredients together - use sufficient almond milk to form a smooth layer.

Spoon on top of the matcha layer and chill in freezer for another 30 minutes.

Cut into individual slices and enjoy!