Chocolate hazelnut blueberry granola
Chocolate hazelnut blueberry granola – a healthy and yummy way to have chocolate for breakfast!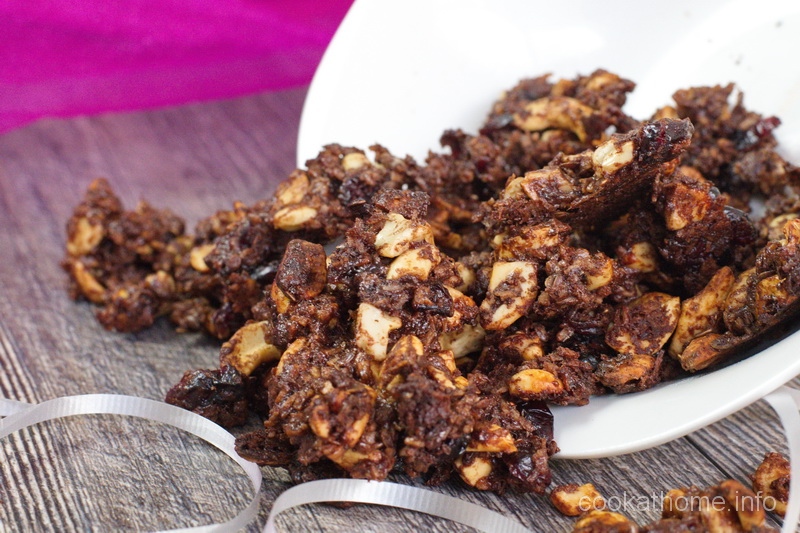 Granola, oh how I love thee! Every week I make up a new batch with different flavors and components (see here, here and here!). And every time, I think I'm in heaven. I don't know what it is – I just love the combination of nuts, dried fruit and whatever I'm using to hold it all together. This granola came about because of a number of items in my pantry that I wasn't sure what I was going to do with them. I think my motto should be – when all else fails, make granola (and eat it too!).
I had some chocolate hazelnut butter (thanks to @justins) and blueberry jam (thanks to @smuckersbrand) that were on sale at various grocery stores (and I had coupons as well … love coupons … but that's another story!). And then I just add seeds, nuts and dried fruit to it. I actually had some hazelnuts that were on sale as well, so used them, but have also used cashews with great success. Also have used strawberry jam. Mmmm, that was yummy too! Just try to make sure that the jam you use is as natural as possible i.e. NO high fructose corn syrup or the healthiness of this granola kind of nose-dives!
But, feel free to substitute with whatever you have in your pantry. Any type of nut butter, any type of jam, any type of nuts, seeds and dried fruit will usually work well together. Basically just go and make granola! Especially this chocolate hazelnut blueberry granola!
Chocolate hazelnut blueberry granola
(Paleo, gluten-free, dairy-free, refined sugar-free, vegan)
Ingredients
1/2

cup

chocolate hazelnut butter

i.e. Nutella, or Justins

1/2

cup

blueberry jam

170

g

chopped hazelnuts

1/2

cup

shredded coconut

1/2

cup

flaxseed

1

cup

dried cranberries
Instructions
Preheat oven to 375F. Line a baking tray with parchment paper.

Mix together the hazelnut butter and jam until well combined. If too hard to mix at room temperature, melt in microwave for 30 secs.

Mix the rest of the ingredients together until all well coated with nut butter and jam combination.

Spread out into a shallow layer on the baking tray and bake for 15 minutes.

Leave to cool completely before transferring to a storage container.