Chocolate crackle cookies experiments
Friday, March 7th, 2014 at 10:07 pm
Today I thought I'd try some experiments with my chocolate crackle cookie recipe. I guess I should have paid attention to the old adage – if it ain't broke, don't fix it!
For those of you keeping up with my adventures, you will recall I tried substituting the milk chocolate and cocoa powder with white chocolate for Grant's special Valentine's Day menu. The taste was ok, but the cookies spread to fill the whole sheet pan. We ended up crumbling the cookies on top of ice cream etc.
When I was in the US last week, I thought I would try some powdered peanut butter (PB2) – only 45 calories for 2 tablespoons instead of the nearly 200 calories in the 'real' peanut butter. But when I added the water according to the directions, it just wasn't quite right for me. So I wanted to try using the PB2 in baking instead.
I used the same recipe for chocolate crackle cookies, but instead of the cocoa powder, I used half and half cocoa and PB2. The texture was pretty good, the taste wasn't that 'peanut buttery', but not bad for an experiment.
It was actually a mistake – I really wanted to substitute the whole amount of cocoa with PB2 – so I had to make another batch. And these turned out like this – do you see a similarity with the white chocolate crackle cookie failure? Again, the taste was ok, but I wasn't so keen on the cookies spreading out so much, and not keeping their cookie shape!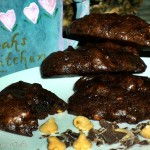 And then I wanted to try another recipe that looked pretty similar to the one here, but instead of using chopped nuts, it included 2 tablespoons of peanut butter. I used crunchy peanut butter, so I still had some pieces of peanuts in the cookies. The texture of these was really chewy, but, as Grant said, it wasn't chocolatey enough to be a chocolate cookie, and not peanutty enough to be a peanut butter cookie – it was a little confused.
Moral of the story: chocolate crackle cookies need cocoa to get the right texture … so use the cocoa and stop trying to change something that works well!!
Remember, all are welcome to make comments and suggestions on this website – I'd love to hear from you!
Until next time, happy cooking at home!
Sarah
Filed under: The Blog!
Like this post? Subscribe to my RSS feed and get loads more!