Choc chip skillet cookie
A Paleo-friendly chocolate chip cookie, baked in a skillet, for family-sized yumminess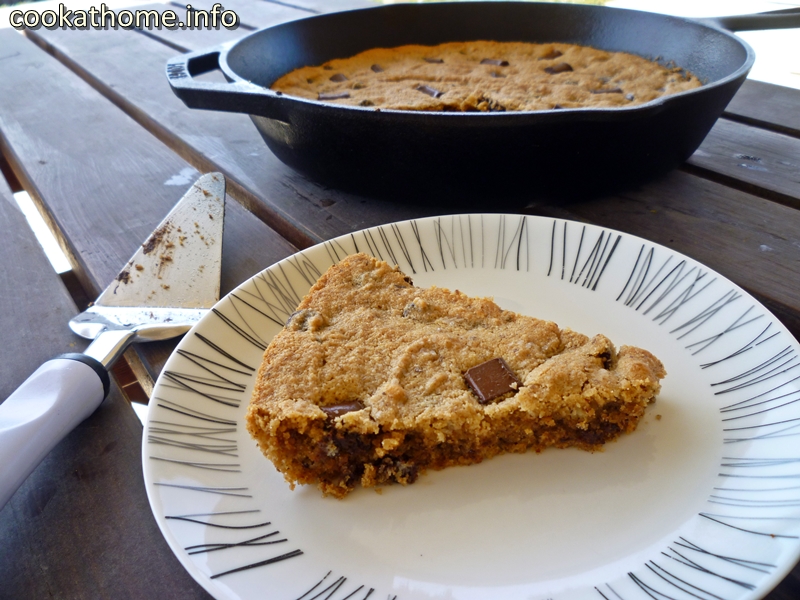 I recently purchased a cast iron skillet from Lodge Cast Iron for the first time. And I love it. I use it to saute veggies, to make hashes, to fry eggs, for everything. But when a recipe for a cookie baked in a skillet came into my inbox from Rachaels Good Eats (original recipe here) I knew I had to try it. Now, the original recipe called for an 8″ cast iron skillet and I have a 12″ one. So, what do I do, but I make it family-sized. Mind you, I didn't hear any complaints from my family when I served it to them, with my dairy-free almond butter ice cream on top! Using Enjoy Life chocolate chunks was awesome as they held their shape and texture, rather than just melting at random (note, this is not a sponsored post, I just love Enjoy Life products!).
Now, be warned, this is a little bit crumbly after it's baked. Which is why we had it heated up with the ice cream oozing down through it all. But I also had a few mouthfuls of it just at room temperature. I definitely think this is a winner recipe, whatever way you look at it, or eat it.
So try it, and let me know what you think!
Choc chip skillet cookie
Ingredients
2

eggs

6

tbsp

maple syrup

1/2

cup

coconut oil

melted

2/3

cup

creamy cashew butter

2

tsp

vanilla

2

tbsp

unsweetened almond milk

2

cups

almond flour

1/2

tsp

baking soda

1

tsp

cinnamon

1

cup

chocolate chunks

1/2

tsp

sea salt
Instructions
Preheat oven to 325 degrees F.

Whisk egg in large bowl then pour in maple syrup, melted coconut oil, cashew butter, vanilla and almond milk to whisk again.

Stir in almond flour, baking soda, cinnamon until well combined. Fold in chocolate chunks, leaving several chocolate chunks aside.

Coat 12-inch cast iron skillet with coconut oil then pour batter into base and spread out evenly using a silicone spatula. Place the last several pieces of chocolate over the top, sprinkle sea salt, then place in the oven for 20--25 minutes.
Recipe Notes
Cashew butter can also be substituted for almond butter if desired.