Chicken shawarma
Wednesday, March 21st, 2018 at 10:00 pm
Using Middle Eastern spices, this chicken shawarma is a hearty, and tasty, classic meal that the family will love!
How many of you have had some sort of cuisine at a certain place, and could not get the thought out of your minds for many years? When Grant and I visited my brother in Toronto a number of years ago, we had a chicken shawarma (before I had all my gluten and dairy issues) and the taste of this shawarma was just amazing. It was so unlike anything that we'd had before. I mean, sure, we loved having the Lebanese yiros when we lived in South Australia (not quite the same as gyros here in the US), and yes we love lots of other Middle Eastern foods, but this was awesome.
For years, we've been looking for a recipe that had similar sort of spices and the tenderness of that first chicken shawarma. So when I was paired up with Rafeeda at The Big Sweet Tooth for this month's Recipe Swap Club, and searching through her many, many recipes, I found a chicken shawarma one and my mind was made up on the spot! But let me first introduce you to Rafeeda and her website.
Where do you live? And does it influence your cooking?
I live in the UAE, though I am originally from India. And yes, I love the local food and currently trying to dig out sources of their recipes, cook them and feature them on the blog under a tab called "Emirati Recipes".
What is your signature dish?
I really do not know, but from the folks, they seem to enjoy my biriyani and machboos the most – both are rice dishes with meat.
What do you do outside of cooking/blogging?
I am a working mother – with an 8-5 procurement job.
What made you start a food blog?
It was a spur of the moment, more to motivate myself to cook!
Who is your favorite celebrity chef?
I'm not a sticker to a person … hehe… I can binge watch Nigella Laweson, Paul Hollywood or Jamie Oliver, depending upon my mood and time.
Lets get back to this chicken shawarma recipe. Now, contrary to my many other Recipe Swaps, I actually made these pretty much according to the original recipe. The main difference, because you knew there would be a difference, was that the original recipe called for 3 servings, so I doubled it for our family of 4 and had leftovers. I also substituted a few ingredients with the ones that I had on hand, but it's all basically the same.
I served it for myself with just a simple salad of tomato, cucumber and spinach, while the kids and Grant used some bought pita bread, added some cheese and sour cream as well. But you need to make sure you add the tahini drizzle. That's what really makes this chicken shawarma come to life. (and yes, I do love tahini, as you've seen in my flourless tahini cookies, and my sesame sunbutter energy bites, as well as drizzling it over my omelettata with salsa … but I digress!).
Just in case you were curious, the taste wasn't quite the same as what Grant and I had in Toronto, but for the lack of any other ideas, we'll just keep going with this one! Let me know if you try it out and what you think in the comments below!
Chicken shawarma
(Paleo, Whole30, gluten-free, dairy-free)
Ingredients
600

g

chicken

cubed

1

tsp

black pepper

Salt to taste

1/2

tsp

cumin powder

1/2

tsp

cinnamon powder

1/2

tsp

cardamom powder

1

tsp

paprika

1/2

tsp

chilli powder

2

tsp

garlic powder

2

tbsp

apple cider vinegar

1

tbsp

olive oil

1

onion

sliced

1

tin

diced tomatoes

3

tbsp

tahini
Instructions
Mix ingredients from black pepper to oil in a bowl. Add the chicken pieces and toss to coat well. Set aside for 15 minutes.

Drizzle the olive oil in a frying pan and add the onion. Saute until soft and almost translucent. Then add chicken along with the marination and cook the chicken till almost done.

Add in the diced tomatoes and toss well to coat in the stock. Cook till the chicken is well done and the stock is dried. Switch off and allow to cool slightly.

Serve either in pita bread or on a plate with some spinach, cucumber and tomato. Drizzle the tahini over the meat and salad to get the full taste experience.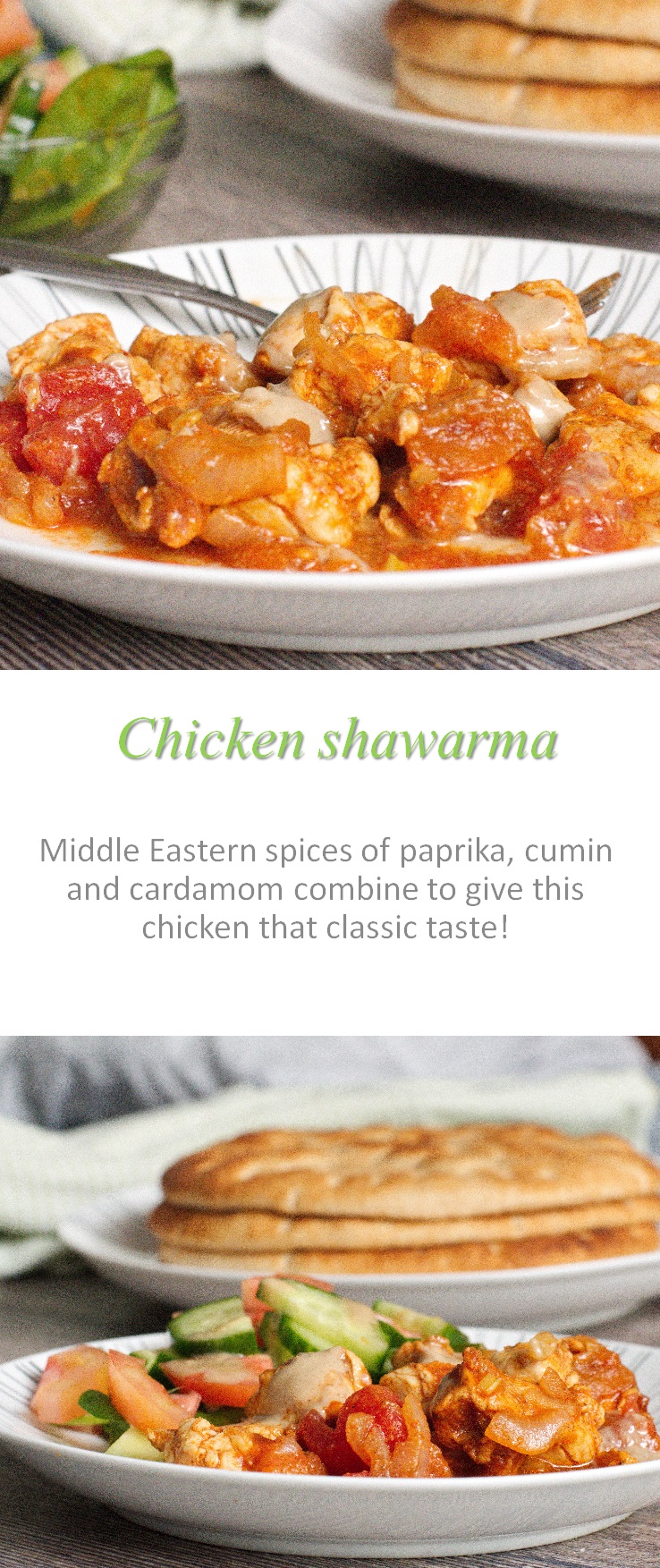 Filed under: The Blog!
Like this post? Subscribe to my RSS feed and get loads more!