Cauliflower pizza crust
This cauliflower pizza crust is a gluten-free carrier for pizza toppings, but a crispy pizza crust it isn't!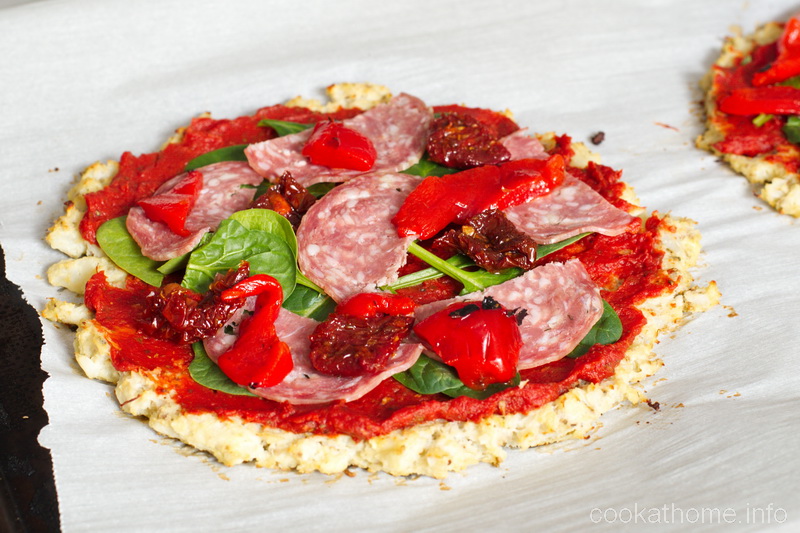 I don't make any pretense of saying this cauliflower pizza crust tastes like a 'normal' pizza crust – it can be quite crumbly – but it does well for being a carrier of your favorite pizza toppings. Only one time that I've made it has it come out crispy, but it does in a pinch when the rest of the family has pizza! If you're interested in more of a traditional pizza crust, check out this recipe for a yummy coconut flour pizza crust.
The trick is to really squeeze out the moisture after the cauliflower has been cooked. Every time I've used good quality paper towels to do this, the pizza crust has held together much better. So squeeze, squeeze and squeeze a little bit more. It's worth it. And the cold leftover pizza is great for breakfast (especially when your daughter makes an egg and bacon pizza for you the night before!).
Cauliflower crust pizza
(Paleo, gluten-free, dairy-free)
Ingredients
500

g

cauliflower

1

egg

1

clove

garlic

1

tbs

oregano
Instructions
Finely grate the cauliflower (or use a food processor) - until the cauliflower resembles rice granules.

Cook in a microwave-safe bowl, covered with cling-wrap, for approximately 5-6 minutes.

Tip onto a clean tea-towel, or a number of sheets of paper towel. You need to get as much of the moisture out as possible.

Mix in the egg, garlic and oregano until well blended.

Spread onto baking paper into a pizza crust shape and bake at 180C/350F for approximately 30-40 minutes. Be careful not to leave it in too long as it will burn, but too short leaves it a little soggy.

Add your favorite toppings and bake for another 10 minutes.