Sunday, March 8th, 2015 at 3:06 pm
I didn't realize just how Australian a pavlova is (or New Zealand-ish for those who want to get really picky) until I mentioned that the dessert of the week to be cooked by Abby and myself for Mummy-daughter time was pavlova. The amount of blank stares I got when I mentioned this … well, it was an interesting time!
Anyway, I've had this recipe in my folder for a number of years now, but have never really tried it myself. In Australia we used to be able to get a 'Pavlova egg', with all the dry ingredients in the plastic 'egg-shell' and the shell breaking into carefully measured proportions that you needed for the rest of the wet ingredients. So simple a 4-year old can make it … and Henry did for his kindergarten class. He was the star of the end-of-year party!
Moving to Chile meant that we no longer had the cheats way of making pavlova … and here's where the Internet came to the rescue. That, and the experience of Grant's dad when Nanna and Poppa came to visit. Henry and Poppa made this recipe to take to a typical Chilean BBQ lunch and it turned out really well. So I kept it in my recipe folder but never tried it. Until this week …
This is what it looked like when it came out of the oven, prior to decorating. I had tried making a chocolate pavlova before, but failed miserably, so I was kind of proud of this effort. All the pavlova contains is egg whites, sugar, vanilla, vinegar and a little corn-starch. Pretty simple, but very easy for things to go wrong.
But here's where the fun comes. Decorating with whipped cream and fruit. Now, for those of you playing along at home, you will remember that I'm thinking I might be lactose intolerant, so I'm steering away from dairy products. So I tried the trick I've seen many people use for non-dairy whipped cream – coconut milk chilled in the fridge over night forms a layer of cream that can be whipped like 'normal cream'. I did that, added some vanilla and a little honey and it tasted pretty good, if I do say so myself. But it didn't make enough whipped cream to cover the whole pavlova, so I cut the pavlova into portions, covered what I thought I would eat with the coconut cream and then used Cool Whip for the rest of the family. And then chopped up some fresh strawberries and Abby helped me to place them on top.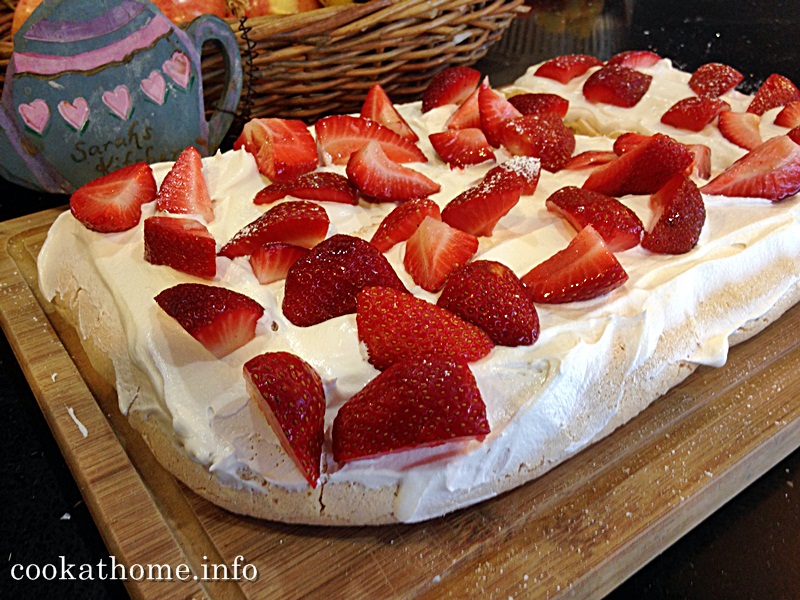 The finished product was crunchy on the outside and a little chewy on the inside. We probably overcooked it a little, so next time (if there is a next time), we'll cut back the time by about 10-15 minutes. But it was 100x better than my chocolate pavlova attempt. The family (and I) loved it and Abby and I had a ball making it, so a win-win situation all round.
The movie this week for Family Movie Night was Garfield … Abby's choice!
Until next time, enjoy cooking at home … with kids!
Sarah