Cashew chicken parmigiana
The classic chicken parmigiana, but crusted with cashews to be Whole30 compliant, this cashew chicken parmigiana stands alone as an awesome meal!
For many years, whenever we would go out for a meal with my father-in-law, he would order the same thing – chicken parmigiana. I mean, what's there not to love? Crumbed chicken with a tomato-based sauce, ham and cheese on top? Kind of like a chicken pizza. I often would have this with him … until I couldn't have commercially crumbed food any more due to the gluten content. And then the cheese issue. But I still loved the idea and the taste of chicken parmigiana. And so did the rest of my family.
So I got my thinking brain on. And came up with this cashew chicken parmigiana recipe. Now, when I make this for the rest of the family, I used Swiss cheese, instead of the avocado on top, but if your family actually likes avocado (not like mine), feel free to use this on theirs as well. I've included the proportions for the toppings across all the chicken schnitzels, but feel free to adapt as needed!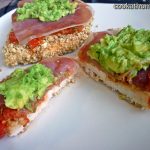 Cashew chicken parmigiana
(Paleo, Whole30, gluten-free, dairy-free)
Ingredients
For the chicken
1

lb

chicken breasts

1

cup

cashew pieces

1

tbs

poultry seasoning

Almond milk for dredging
For the sauce
6

oz

tomato paste

1

tbs

basil

1

tbs

oregano
For the topping
1

avocado

1

tbs

nutritional yeast

4

slices

prosciutto
Instructions
For the chicken
Remove any fat or inner parts to form fillets.

Pound the chicken into thin pieces (approximately 1 cm) and set aside.

Using a food processor, combine the cashews and poultry seasoning and process until fine. Don't process for too long or cashew butter will form. Leave some chunks for texture. Place in a flat container for 'crumbing'.

Pour the almond milk into a flat container.

For each piece of chicken, place in the almond milk, then the cashews and then on a wire rack on top of a baking tray.

Once each piece has been 'crumbed', place the baking tray in a pre-heated oven at 350F for 20 minutes.
For the sauce
Mix all ingredients in a small mixing bowl until well combined.
For the topping
Mix all ingredients together.
To assemble
After 20 minutes of baking, take the chicken out of the oven.

Spread the sauce on one side, place a slice of prosciutto on top, then the avocado topping.

Return to the oven for an additional 5 minutes.

Serve and eat immediately.