Carrot walnut bran muffins
Carrot walnut bran muffins, with no added sugar – yummy enough for a snack, healthy enough for breakfast!
I've been having a few chats to the guys at work recently and they're loving my 'healthy' food. Mind you, I get the most rave reviews when I use real sugar, but if I don't tell them it's healthy, somehow all the baked goods I bring in end up being eaten in a very short time! When I was talking with one of the guys, I asked him for a favor and said I'd bring in an experimental baked good for him as payment, if it turned out. He's very much into the low sugar, high protein type food, so I thought I'd try something with my bran muffin recipe, which is sweetened only with dates.
Now this is a recipe that I have always loved, but Grant hasn't really taken to it. He says the original recipe is kind of bland, with little flavor. When I gave him one of these carrot walnut bran muffins, he went back for more. And more. I think it might be due to the additional spices that I used, and the topping that I used then (make your own with cashews and dates using this recipe).
But it all comes down to the taste. And if Grant loves these carrot walnut bran muffins – it's got to be good. Try it for yourselves and let me know what you think!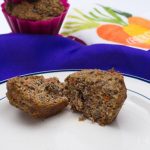 Carrot walnut bran muffins
(Paleo, gluten-free, dairy-free, no added sugar)
Ingredients
1/2

cup

almond flour

1/2

cup

ground flaxseed

1

tsp

baking soda

2

tsp

all spice

6

Medjool dates

pitted

3

eggs

2

tbs

olive oil

1/4

cup

water

1/2

cup

unsweetened applesauce

1/2

cup

carrot

grated

1/4

cup

walnuts

chopped
Instructions
Preheat oven to 350F.

In a large bowl, combine almond flour, ground flax, all spice and baking soda.

In a food processor, blend dates, eggs, oil and water on high speed until very smooth

Mix wet ingredients into dry, then stir in applesauce, carrots and walnuts.

Spoon batter into lined muffin tin.

Bake for 20-25 minutes.

Cool and serve.