Carrot pineapple cake
This carrot pineapple cake combine the classic flavors of carrot and pineapple in this Paleo friendly, no added sugar delicacy
I love a good carrot cake. So much that even carrot cake (self-proclaimed) experts have raved over my standard carrot cake recipe. So when I found a carrot cake recipe with no sugar added to it? Not even the natural sugars such as honey, maple syrup etc? And it still tastes amazing? Yep, you betcha!
On my quest to become a little bit healthier I have started looking at how much sugar I add to baked goods, even the natural ones. I found this recipe for carrot pineapple cake on Paleo Grubs and gave it a go on a weekend where I had a little bit of time. And loved it (except I couldn't get the cashew cream frosting to work as well as I'd hoped, maybe because I didn't soak the cashews for long enough!). The original recipe calls for a whole 1/4 cup of honey in the entire recipe. But I thought I could go one better and get rid of all the added sweetener. And change the frosting, just because I've never got the cashew cream stuff to work and I don't expect you guys to either!
We served this to some friends recently and they just went nuts over it. I hope you do too!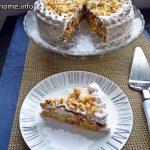 Carrot pineapple cake
(Paleo, gluten-free, dairy-free, no added sugar)
Ingredients
For the cake
4

eggs

12

oz tin

unsweetened pineapple chunks

well drained

1/2

cup

almond butter

2

tbs

coconut oil

melted

1/2

cup

almond flour

2

tsp

cinnamon

1

tsp

baking soda

1

tsp

apple cider vinegar

1

cup

grated carrots

1

cup

chopped walnuts
For the frosting
2

tins

full fat coconut milk

chilled overnight

1

tsp

vanilla

2

tsp

cinnamon
Instructions
Preheat oven to 350F.

Place the pineapple, almond butter, eggs and coconut oil in a bowl and mix with a hand blender until well combined. Try to crush most of the pineapple into smaller pieces while blending. If still chunky, use a fork to mash them into the rest of the batter.

Add almond flour, cinnamon and baking soda and mix to combine.

Add the apple cider vinegar and fold in the carrots and walnuts until evenly dispersed.

Prepare 2 8" round cake pans with parchment paper and spray with cooking spray.

Divide the mixture between the pans and bake in oven for 20-25 minutes, or until a toothpick comes out clean. Cool completely.
For the frosting
Take the tins of coconut milk of the fridge, open and scoop the top solid layer out of both. Use the remaining liquid for smoothies etc.

Mix well with a hand mixer until smooth and cream-like. Add the vanilla and cinnamon until completely combined.
To assemble
Remove the cakes from the pans.

Place one of the cakes on a platter and spread 1/3 of filling evenly.

Carefully place the 2nd layer of cake on top and spread filling on top and around the sides.

Add additional walnuts if desired as decoration.
Recipe Notes
An alternative frosting:
- 1 tin coconut cream
- 1 packet of instant cheesecake pudding mix (no sugar added)
- 1/2 cup cashews
- 1 cup pitted Medjool dates
Combine all ingredients in a high speed food processor until smooth.