Bran muffins
Gluten and dairy-free bran muffins, sweetened only with dates, that are really moist and yummy with almost any topping you wish, or just plain!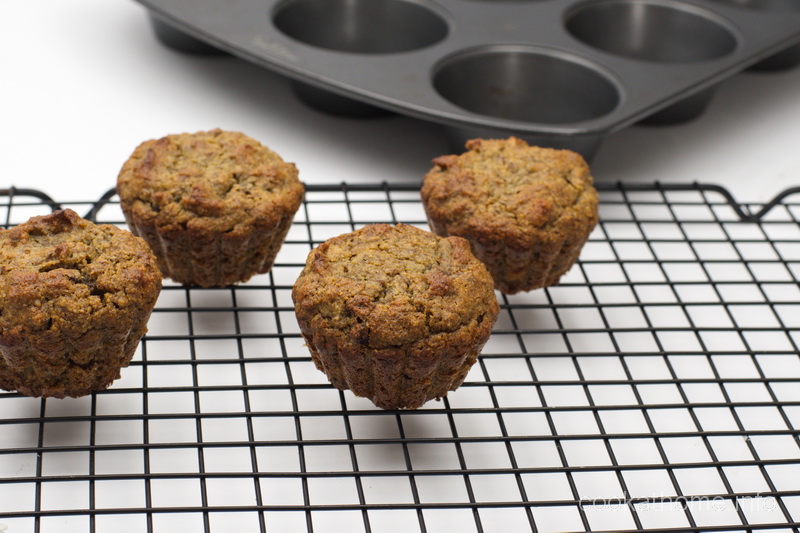 I used to love bran muffins. When we went to Canada and Grant and I went to Tim Hortons (for their amazing donuts – for Grant), I would often just get a bran muffin and eat that quite contentedly. My mum had a recipe for bran muffins that I used to make quite frequently, but it was very high in oil and relatively bland unless you put a lot of jam on them. And obviously, needing a gluten-free option I haven't made them recently. Until now. Thanks to Elana's Pantry, I have renewed my love of the bran muffin. I love this recipe – Grant can take or leave it – he says it needs more sweetener, but I like them just fine, thank you very much!
I've adapted these a little, adding bits and pieces of different fruits and nuts, and they have been awesome. I've adapted them into carrot cake muffins, which have then been adapted into zucchini muffins, etc. I've also tried them with plain margarine as a spread, peanut butter (this was one case where peanut butter DIDN'T make it taste better), jam, sliced cheese, and different frostings. The world's your oyster. Experiment and enjoy!
Try them and let me know how you go!
Bran muffins
(Paleo, gluten-free, dairy-free, no added sugar)
Ingredients
1/2

cup

almond flour

1/2

cup

ground flaxseed

1

tsp

baking soda

6

Medjool dates

pitted

3

eggs

2

tbs

olive oil

1/4

cup

water

1/2

cup

raisins

1/4

cup

walnuts

chopped
Instructions
Preheat oven to 350F.

In a large bowl, combine almond flour, ground flax and baking soda.

In a food processor, blend dates, eggs, oil and water on high speed until very smooth

Mix wet ingredients into dry, then stir in raisins and walnuts.

Spoon batter into lined muffin tin.

Bake for 20-25 minutes.

Cool and serve.