Banana caramel pie
A treat for all ages – this Paleo-friendly banana caramel pie is only sweetened with dates, but is a hit with the whole family!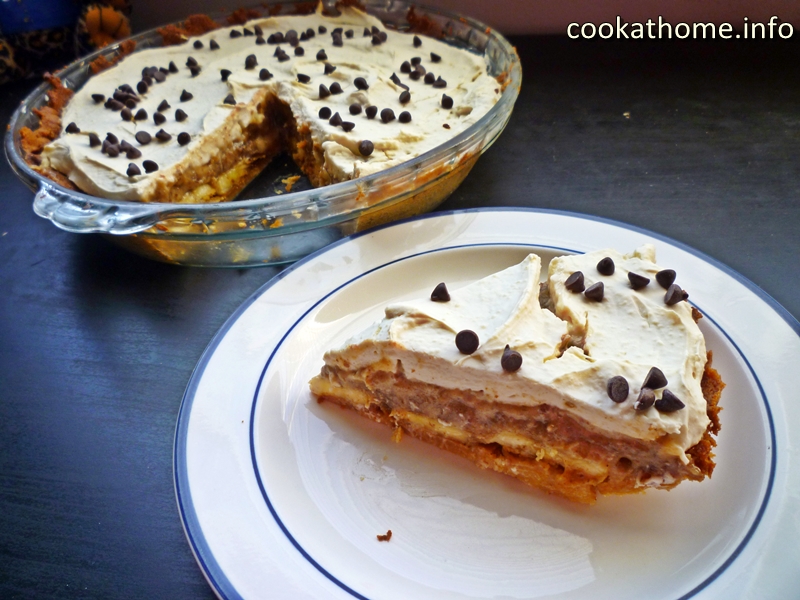 Grant and I grew up in South Australia. For those of you who are a little rusty on your Australian geography, it's south (obviously) and in the center. And what we didn't realize when we were growing up there, was just how many foods were specific to South Australia. Like King George whiting, fritz, mettwurst, frog cakes, kitchener buns and kuchen (Google them if you don't know what these are!). And banana caramel pie.
Neither Grant nor I are big coffee drinkers, but the group of friends we hung out with when we were living there were HUGE coffee fans. So, when we all went to socialize at a coffee shop, Grant and I would usually order a hot chocolate (see here and here for some dairy-free versions), and a slice of banana caramel pie. Simple shortcrust pie crust, bananas, caramel and whipped cream topping. We were so surprised when we changed states to find that no coffee shop or bakery had ever heard of it before. Sure, there's banana cream pie, and other cream pies, but not really a banana caramel pie.
So we got to thinking and decided to try to make it ourselves. We bought a pre-made pastry crust from the grocery store (supermarket in Australia!), some bananas, a tin of caramel (which you could buy everywhere!) and some cream to whip up ourselves. Amazing how the US and Australia are so similar in some areas, and culturally opposite in others!! This was our pretty standard go-to dessert whenever we hosted people for a meal because (a) it was so simple and (b) it was so yummy.
Fast forward a few years until now, where I cannot tolerate gluten or dairy, and we're trying for lower processed sugar intakes. For Grant's birthday I tried a number of recipes to get a dairy-free caramel to set properly, but failed dismally. Yes, the taste was there, but there's something a little disconcerting about having bananas swim in caramel around a pie crust! And then I remembered, I had a caramel slice recipe that I knew the caramel would set properly. So, combined with a few adjustments to my Paleo graham cracker crust recipe and this is seriously a winner. It's so good, no one will realize there's no processed sugar in it. Trust me …!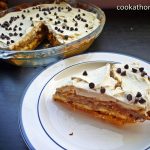 Banana caramel pie
(Paleo, gluten-free, dairy-free, no refined sugar)
Ingredients
For the crust
1

cup

almond meal

1/4

cup

honey

1/4

cup

non-dairy shortening

e.g. ghee or clarified butter
For the filling
2

bananas

sliced into coins

2

cups

pitted dates

300g

6

tbs

almond butter

100g

1/4

cup

water

1/2

tbs

coconut oil

10g
For the topping
1

tin coconut cream

1

packet vanilla instant pudding mix

check if dairy-free
Instructions
For the crust
Preheat oven to 350F and prepare a 9" pie tin with cooking spray.

Combine all ingredients together until a dough forms.

Roll out dough between two pieces of parchment paper until slightly bigger than the pie tin. This should be approximately 1/4" thick.

Place in pie tin, trim and smooth out any cracks/tears with additional dough. Prick several holes in the base with the tines of a fork.

Bake for 10 minutes or until slightly golden. If the crust has risen during baking, as soon as removed from the oven, gently press down with the bottom of a glass to maintain the desired thickness.

Set aside to cool.
For the filling
Place the banana coins in a single layer on the pie crust, until the whole base is covered.

Place all ingredients into a food processor and process until smooth.

Pour into cooled pie base and chill in the refrigerator for an hour.
For the topping
Combine the coconut cream and pudding mix with an electric mixer until it thickens and can hold its own shape.

Spread on top of the cooled caramel and top with shaved dairy-free chocolate (optional, but not really!)

Chill until ready for serving, at least 1 hour.