Banana blueberry bread
Banana blueberry bread with bananas and blueberries – but with no gluten, dairy or refined sugar. It's a winner.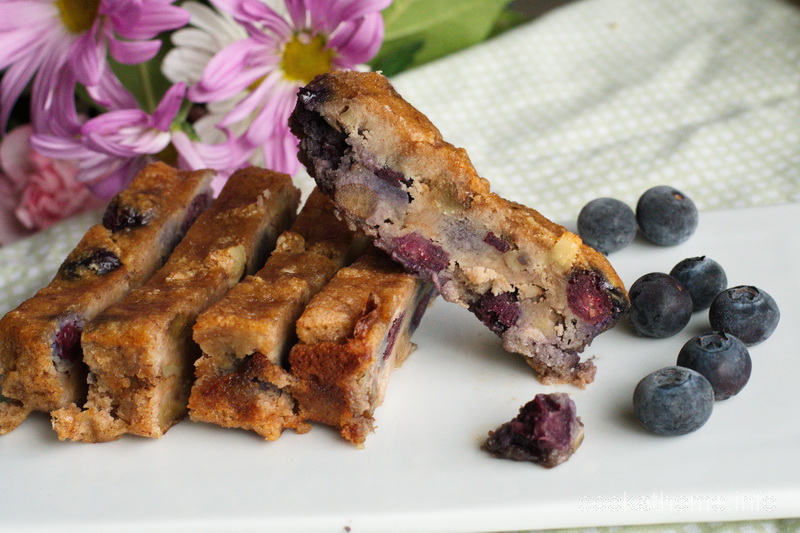 I'm so excited to bring this recipe to you. It has fruit in it. And Abby loves it. YAY!! She will go back for more. I'm so happy about that. As most of you remember, Abby is very picky when it comes to fruit in slices etc, mainly dried fruit (which I love and use constantly in my favorite slice here). She has recently promised me that she will not complain about the food I cook for her for the whole month of June. This comes after she stayed at a friend's house where they ate fast food 3 meals out of the 4. She didn't feel so well afterwards and was looking forward to having my home cooked food for her again! Score one for me!
Anyway, I've made this banana blueberry bread a number of times. It's one of those breads that you feel healthier just looking at all the chunks of real food. It was adapted from Chocolate Covered Katie (love that website!) but added my own few touches to it. Especially now that I know that baking powder contains corn starch (who knew?). The original recipe called for chocolate chips – well that's where the blueberries came in – I love it when blueberries are in season! I've also tried substituting the banana for pumpkin puree (since my stomach doesn't always do so well with bananas). And that worked well too. I don't think you can really kill this recipe – no matter how hard you try. So try it … trust me!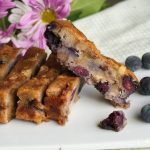 Banana blueberry bread
(Gluten-free, dairy-free, vegan, no refined sugar, can be Paleo)
Ingredients
2 1/2

cups

rolled oats

260g

1 3/4

cups

mashed banana

420g

1 1/2

tsp

baking soda

1/2

tsp

cream of tartar

2

tsp

cinnamon

2

tsp

vanilla extract

1/3

cup

almond milk

1/2

cup

pure maple syrup

1 1/2

tbs

apple cider vinegar

6

oz

blueberries

1/2

walnuts

chopped
Instructions
Preheat oven to 350F and line a 9x5 loaf pan with parchment paper.

Put oats in a blender and blend until a fine powder forms. (Skip this step if using almond flour)

Add all other ingredients except for blueberries and walnuts and blend until smooth.

Stir in the blueberries and walnuts, being careful not to break the blueberries.

Pour the batter into the prepared pan, then bake on the middle rack for 35 minutes.

Turn the oven off but don't open the oven. Let the bread sit in the closed oven for another 10 minutes.

Remove from oven and let cool completely before removing from the pan.
Recipe Notes
Almond flour also works well if you want to make this grain-free
Adapted from http://chocolatecoveredkatie.com/