Bacon wrapped peachy chicken
These bacon wrapped chicken thighs, stuffed with peaches and spinach, are a unique combination of ingredients, smoked and enjoyed by all!
As you may have read, Grant and I recently bought ourselves a Traeger grill. And it gets very well used. Grant actually spends hours pouring through recipes that he wants to try on it. Now, normally that's me, but it's quite refreshing to see that someone else in our family is as obsessive about cooking and getting just the right combination of ingredients as me!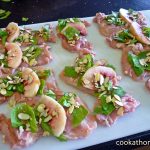 This recipe for bacon wrapped chicken thighs came about when Grant starting imagining what he'd like to try next. Now, anything wrapped in bacon is a winner to begin with. But he wanted to stuff some chicken with something. And they had to be thighs, because they are the tastiest part. Right? So he asked me what I thought about putting some sort of fruit in the chicken. And remembered my spinach and peach salad, which he absolutely loves. We put our two heads together and came up with this.
Now, this is a bit finicky, and you need to have patience, especially when assembling it all together. But it's well worth the effort. Our whole family loved having these bacon wrapped chicken thighs the first time around. And for leftovers. So you will too …!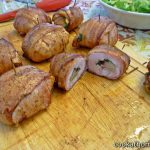 Bacon wrapped peachy chicken
(Paleo, gluten-free, dairy-free, no added sugar)
Ingredients
For the chicken
10

chicken thighs

boneless and skinless

1/2

cup

spinach

1

peach

cut into 10 slices

1/2

cup

slivered almonds

20

bacon rashers
For the glaze
1

tbs

coarse grained mustard

2

tbs

balsamic vinegar

3

tbs

olive oil

1/2

clove

garlic

finely minced

1

tbs

apple juice
Instructions
For the dressing
Combine all ingredients until well mixed.
For the chicken
Spread out each chicken thigh and trim any excess fat. Season with salt and pepper.

Lay a few leaves of spinach, a peach slice and a small handful of almonds on each thigh.

On a separate surface, lay two bacon rashers across each other to form a cross.

Place one thigh on the cross and bring up the sides of bacon to touch. Secure with a toothpick.

Repeat with the remaining thighs.

When all thighs are completely stuffed and wrapped with bacon, transfer to the grill, set on smoke.

Allow to smoke for 30 minutes and then brush with combined glaze ingredients. Increase the temperature to 350F and allow to cook for 30 minutes.'

Monitor the temperature of the chicken and remove from grill when internal temperature reaches 160F.

Allow to rest for 10 minutes before serving.
Recipe Notes
This recipe can be made in a conventional oven. Place the assembled chicken thighs on a wire rack, on top of a baking tray, in the middle of the oven. For the first 30 minutes, set the temperature at 150-170F and then increase to 350F.