Avocado chicken 'zoodles'
A creamy avocado chicken sauce over zucchini noodles makes this Whole30 meal very satisfying
How many times have I mentioned how awesome my husband is on this website? Too many to count, I'm sure. Well, he did it again. He bought me a spiralizer for Christmas. This one to be precise. You see, I've given up on commercial gluten-free pastas. They just never turn out they way I want them too, often gluggy, no matter what technique I try to avoid the glugginess. As part of my Whole30 adventures, I found out about spiralizers – basically taking veggies and turning them into noodles. The cool thing is, there are so many veggies that can be turned into noodles, that I will never be bored with pasta again! So here I go with making all my favorite pasta dishes into veggies …
Zoodles, or zucchini noodles, are probably my favorite spiralized veggie. Basically because they are already relatively soft, they are easy to spiralize, and cook just for a few minutes to heat through. A tip for the unwary – it's useful to throw a pinch of salt on top of the spiralized zoodles just after spiralizing to remove a lot of the moisture because moisture = gluggy = not delicious. But I've also tried this recipe with butternut squash noodles, sweet potato noodles and I could go on.
This avocado chicken zoodles recipe is one of those that I make just for myself to eat because it has avocado in it. And no one else in my family likes avocado – I know, how do they survive? But it doesn't really taste like avocado in the sauce, it's just a really yummy creamy texture, without any dairy involved at all. And a few sprinkles of red pepper flakes gives it a little bit of heat. The original recipe comes from Paleo Running Momma and it is Whole30 compliant so you can feel good eating a pasta-type dish again! I did adapt it a reasonable amount, but I do have to give credit to Michelle for the original concept. You can use any sort of curry-ish powder on the chicken – I use the Pranayums spice shot for extra nutrition and an amazingly unique taste, but use whatever type of curry powder you have on hand!
The last batch of these avocado chicken zoodles I made, I actually didn't worry about reheating the leftovers – they are just as awesome cold as they are hot. But maybe this is where you just tell me I'm strange and I should just concentrate on cooking …!
Give it a go and let me know what you think!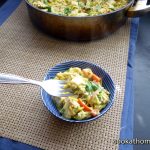 Avocado chicken zoodles
(Paleo, Whole30, gluten-free, dairy-free)
Ingredients
For the sauce
1/4

cup

red onion

chopped

2

tbs

apple cider vinegar

2

tsp

coconut aminos

2

tsp

lemon juice

1/2

tsp

ground ginger

1/3

cup

olive oil

1

medium avocado
For the chicken
1

lb

chicken breast

1

tsp

curry powder

1

tbs

stone-ground mustard

1

tbs

mayonnaise
Instructions
For the zoodles
Spiralize zucchini and set aside in a bowl lined with paper towel to absorb excess water. Sprinkle with salt to remove even more moisture and set aside.
For the chicken
Poach the chicken breasts either in water or chicken stock, about 20 minutes, or until cooked through.

Remove from liquid and allow to cool slightly before shredding or cutting into bite-sized pieces and set aside.
For the sauce
Combine all ingredients in a food processor until creamy.
To assemble
Heat the zucchini noodles in a small amount of oil in a medium frying pan until soft.

Add the chicken into the sauce mixture and combine with zoodles.

Store any leftovers in the refrigerator for up to 3 days or freeze for up to 7.