Anzac biscuits
These Anzac biscuits are sweet and chewy using oats, coconut and golden syrup as the magical ingredient.
Every Anzac Day, like every good Australian, I make Anzac biscuits. I actually have a recipe for gluten-free Anzac biscuits, but I haven't been worried about using it as it uses quinoa flour, which is harder to find in Australia than Chile, strangely enough! So to make these gluten-free, I used gluten-free oats and a gluten-free plain flour blend.
The biscuits (cookies, for my US readers!) are sweet, and chewy – be careful not to overcook them or else they'll just turn into hard lumps. And be aware that the dough is actually quite crumbly – I hand-shaped the cookies, kind of squeezing them in my fingers as I went to make sure they held together long enough to get from my hands to the pan and then from the pan to the cooling racks. But it's definitely worth it. We used these in our 'famous' cookies and cream cheesecake slice recipe (here) instead of Oreos to make Anzac cheesecake – extremely yummy!
A note for you in the US – you must use golden syrup in these cookies. Any other substitution, like corn syrup, or maple syrup, just won't work. Abby and I tried one weekend to re-create these yummy biscuits with the US substitutes, and while they were 'ok', they just weren't the same. So look at for any import stores around and see if they have some golden syrup. It's definitely worth it!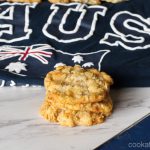 Anzac biscuits
(Gluten-free, dairy-free)
Ingredients
1

cup

gluten-free rolled oats

3/4

cup

shredded coconut

1

cup

plain gluten-free flour

1

tsp

baking soda

1

cup

granulated sugar

1/2

cup

dairy-free butter

1

tbs

golden syrup

2

tbs

boiling water
Instructions
Mix oats, flour, sugar and coconut together.

Mix baking soda with the boiling water, then add to melted butter and golden syrup.

Add the liquid ingredients to the dry and combine well - it will be very crumbly!

Form into little balls with your hands, about 1 tablespoon per cookie, and place on a prepared baking tray.

Bake at 160C/325F for 8 minutes - do not overcook.