Almond flour pancakes
Using almond flour helps to give these almond flour pancakes an extra nutritious start to the day!
As you may or may not know, my family loves pancakes. In fact, I would go so far as to say that Grant is the pancake king. So much so that I've put his tried and true recipe on the website (here), and it's one that the kids make so often – it's that easy and that fail safe. So you would think that translating that recipe into something gluten and dairy-free wouldn't be a problem, wouldn't you? Well, it's not that easy.
Using Grant's recipe and a generic gluten-free all-purpose flour blend does come up with decent pancakes. And they are quite yummy and they don't fall apart. Well, they do when I make them, but not when Grant makes them! But most gluten-free all-purpose flours are made with rice flour, and after doing the Whole30 I have enjoyed being grain-free. So I set out to find a recipe using Paleo-friendly flours (i.e. not grains!). And here it is.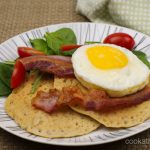 Originally from Reboot with Joe (recipe here), please enjoy. Note that you don't have to just have sweet toppings on these … I also love them with bacon and eggs! And with veggies because … well, they're veggies!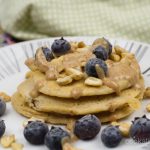 Almond flour pancakes
(Paleo, gluten-free, dairy-free)
Ingredients
1

cup

almond flour

150g

2/3

cup

unsweetened almond milk

160mL

2

eggs

1/2

tsp

vanilla extract

1

tsp

chia seeds

1

tsp

cinnamon
Instructions
Combine all ingredients in a small mixing bowl and mix until smooth.

Heat a medium frying pan over medium heat, spray with oil and allow to heat.

Pour batter into 4-5" rounds and cook about 2 mins on each side.

Serve immediately with your favorite toppings.