Almond chocolate chip cookies
A different texture for flourless almond chocolate chip cookies, with bursts of chocolate chips and almond butter to tease your tastebuds.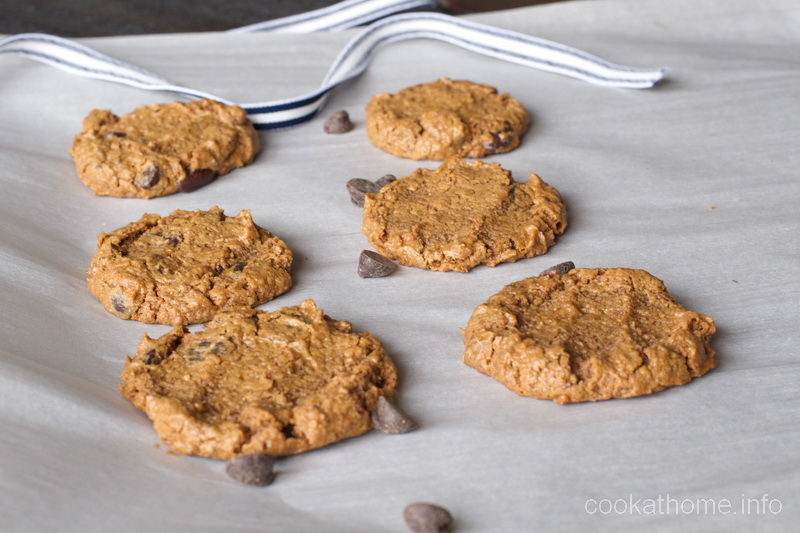 I actually made up this almond chocolate chip cookies recipe all by myself … well, I adapted it from the peanut butter blondie recipe (here) and wanted to make cookies out of all natural ingredients. When I took some blondies to work recently, they went like hotcakes (literally!), so I thought to myself – how can I make these into cookies but without adding any refined sugar? And this is what I came up with. The almond butter gives it a totally different texture to the peanut butter in the blondies and the flaxseed gives it the 'oomph' to make the cookies stick together and not crumble.
I'm happy to hear any feedback from you guys when you try it – let me know what you think!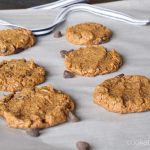 Almond chocolate chip cookies
(Paleo, gluten-free, dairy-free, no refined sugar)
Ingredients
1

cup

almond butter

1/2

cup

honey

2

eggs

1/2

tsp

baking soda

1/2

cup

ground flaxseed

1/2

cup

dairy-free chocolate chips
Instructions
Preheat oven to 350F.

Mix all ingredients except for the chocolate chips together until a smooth batter forms.

Fold in the chocolate chips.

Drop by tablespoonfuls onto prepared baking trays (spray and/or parchment paper) and bake for 10-11 minutes until just golden brown.

Leave on baking trays for 5 minutes before moving to a wire rack to cool completely.